In Brief: June 23, 2022
Inside This Issue: FDA authorizes COVID-19 vaccination for young children; updated DOD policy for HIV-positive service members; Issue briefs focus on gender affirming care and health disparities; and others.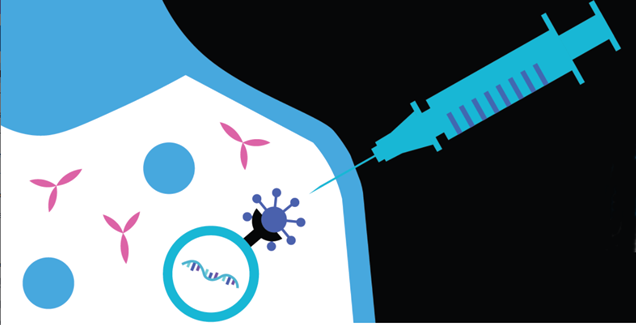 COVID-19 Vaccination
CDC Recommends COVID-19 Vaccination for Children as Young as Six Months Old
On June 18, the Centers for Disease Control and Prevention (CDC) recommended COVID-19 vaccination for children as young as 6 months old. The move followed a decision by the U.S. Food and Drug Administration (FDA) on the previous day to amend its emergency use authorizations (EUAs) for both the Moderna COVID-19 Vaccine and the Pfizer-BioNTech COVID-19 Vaccine to include use in children down to that age. Previously, FDA had authorized the use of the Moderna vaccine in adults 18 years of age and older, and the Pfizer-BioNTech vaccine in adults and children 5 years of age and older.
Children 6 months through 17 years old who receive the Moderna vaccine will have a primary series of two doses one month apart. In contrast, children 6 months through 4 years old who receive the Pfizer-BioNTech vaccine will have a primary series of three doses in which the initial two doses are administered three weeks apart followed by a third dose administered at least eight weeks after the second dose.
"Many parents, caregivers, and clinicians have been waiting for a vaccine for younger children and this action will help protect those down to 6 months of age," noted FDA Commissioner Dr. Robert Califf. "As we have seen with older age groups, we expect that the vaccines for younger children will provide protection from the most severe outcomes of COVID-19, such as hospitalization and death. Those trusted with the care of children can have confidence in the safety and effectiveness of these COVID-19 vaccines and can be assured that the agency was thorough in its evaluation of the data."

Living with HIV
U.S. Defense Department Updates Policy for HIV-Positive Service Members
In consideration of the significant advances in HIV diagnosis, prevention, and treatment of HIV that have occurred in recent years, U.S. Secretary of Defense Lloyd Austin issued a memo on June 6 updating the Defense Department's policies on HIV-positive personnel serving within the U.S. Armed Forces. According to the memo, "Individuals who have been identified as HIV-positive, are asymptomatic, and who have a clinically confirmed undetectable viral load (hereinafter, 'covered personnel') will have no restrictions applied to their deployability or to their ability to commission while a Service member solely on the basis of their HIV-positive status. Nor will such individuals be discharged or separated solely on the basis of their HIV-positive status. This definition of 'covered personnel' will be added to the affected DoD Instructions."
The advocacy group Lambda Legal praised the policy change. "The light at the end of the tunnel is shining a little brighter today for people living with HIV who want to serve in the United States Armed Forces," noted Lambda Legal's CEO Kevin Jennings. "While there is still more work to be done for all people living with HIV who wish to serve, this marks a significant step forward."



Health Access and Disparities
Kaiser Issue Briefs Focus on Gender Affirming Care and Health Disparities
In recent weeks, the Kaiser Family Foundation (KFF) published two new issue briefs: Youth Access to Gender Affirming Care: The Federal and State Policy Landscape and Health Care Disparities Among Asian, Native Hawaiian, and Other Pacific Islander (NHOPI) People. "Numerous states have implemented or considered actions aimed at limiting LGBTQ+ youth access to gender affirming health care," according to KFF. Four states recently enacted such restrictions, and 15 states are considering 25 similar pieces of legislation. In its issue brief, KFF analysts examine the current state and federal policy landscape concerning gender affirming services for youth and the implications of restrictive state laws. In particular, the brief addresses the following questions:
What is the status of state policy restrictions aimed at limiting youth access to gender affirming care?

What states have introduced protections related to sexual orientation and gender identity in health care?

What is federal policy regarding gender affirming services?

What do major medical societies say about gender affirming services?

What are the implications of access restrictions?


In the second recent issue brief, KFF analysts note that Asian and NHOPI people are a diverse and growing population in the United States. The U.S. Asian population has been growing particularly quickly, rising 81% from 10.5 million in the year 2000 to 18.9 million in 2019. The brief's key findings include the following:
The majority of Asian and NHOPI people in the U.S. are citizens, adults, and are parents or living in multigenerational households.

As of 2019, among the nonelderly population, 7% of Asian people and 13% of NHOPI people were uninsured.

There are wide variations in uninsured rates among Asian and NHOPI people, ranging from 4% for Japanese people to 32% for Mongolian people.

Data show wide variations in socioeconomic measures – including educational attainment, employment, and household income – among nonelderly Asian and NHOPI people, which may contribute to their wide variations in health coverage rates.

Understanding the experiences of Asian and NHOPI people is of particular importance at this time, given growing levels of racism and discrimination amid the COVID-19 pandemic, including a significant uptick in hate incidents against Asian people.




For additional information on these topics, you can visit NEAETC's Online HIV Resource Library pages focusing on HIV in Youth, Asian American people, and Native Hawaiians and other pacific islanders.

Upcoming Conference
July 1 Exhibitor Deadline for the 2022 National Ryan White Conference
Federal agencies, technical assistance providers, and other organizations supporting HIV care and treatment that wish to exhibit at the virtual 2022 National Ryan White Conference on HIV Care and Treatment may register through an online process. The platform for the virtual conference, which will be held on August 23 through 26, will have a section dedicated to exhibits. Exhibitors will be able to upload a logo, description, and video to share their messages with the more than 5,000 participants expected at the event. Conference attendees will able to message exhibitors with any questions, and exhibitors will also be able to contact attendees through the conference platform's networking hub. If you wish to register to exhibit, please do so by the July 1 deadline.

HIV Research and Interventions
JAIDS Special Issue Spotlights HIV Implementation Research in the EHE Initiative
The July 2022 special issue of the Journal of Acquired Immune Deficiency Syndromes (JAIDS) highlights HIV implementation research in the United States. This includes studies funded as part of the Centers for AIDS Research and AIDS Research Centers (CFAR/ARC) Ending the HIV Epidemic in the U.S. (EHE) supplemental awards, as well as other domestic HIV implementation research. The 28 articles in the special JAIDS issue cover research in all geographic regions of the U.S., a diverse set of priority populations, and the four pillars of the Ending the HIV Epidemic Initiative: prevent, treat, diagnose and respond. Free full-text PDFs of all articles are available for download from the special issue's Table of Contents page.
Now Available: Resources About Evidence-Informed Interventions for People with HIV
The TargetHIV website has recently posted an extensive set of resources about evidence-informed interventions in different population groups and settings to reduce health disparities and improve health outcomes among people with HIV. Using Evidence-Informed Interventions to Improve Health Outcomes Among People Living with HIV (E2i) was a four-year project in which 11 evidence-informed, effective interventions were tested in Ryan White HIV/AIDS Program-funded care settings. The interventions focused on the following:
E2i project staff and contractors have produced a series of multimedia toolkits to help HIV service providers adapt and implement the interventions. These toolkits include implementation guides, e-learning modules, videos, posters, and brochures that are accessible at the links above on the TargetHIV site.



Educational Resources
HHS Launches "I Am a Work of ART" Campaign for People with HIV Who Are Not in Care
This month, the U.S. Department of Health and Human Services (HHS) launched I Am a Work of ART, which HHS describes as "a community-informed national campaign designed to encourage people with HIV who are not in care for HIV to seek care, stay in care, and achieve viral suppression by taking antiretroviral therapy (ART)." The latest CDC data indicate that just over half (53%) of people with HIV in the U.S. have viral suppression. This means that efforts to increase ART use, retention in HIV care, and viral suppression rates could substantially improve the longevity and quality of life of people with HIV not currently in care, and substantially reduce the number of new HIV infections. In developing the campaign, HHS worked with a range of traditional and nontraditional HIV stakeholders and people with HIV in eight EHE priority jurisdictions across the United States. Campaign materials include colorful posters and flyers, rack cards, business cards, social media posts, and videos. These resources feature a diverse group of people with HIV – cisgender, transgender, Black, Latino, and American Indian, young and old – who share personal stories about getting into care and using ART to achieve viral suppression.
New Life Beyond HIV Video Series from HRSA
Earlier this month, HRSA's HIV/AIDS Bureau posted the first video in its new Life Beyond HIV series, which features the personal accounts of people who are living their life beyond HIV and helping others in their communities. In one video, Shawnte' Spriggs – a writer, support group facilitator, and HIV advocate – encourages people with HIV to connect with a community so that they don't have to navigate their HIV journey alone. In a second video, Charles Shazor, Jr., shares how his HIV diagnosis affected his life and put him on his current path to helping to end the HIV epidemic in the United States. Additional videos will be added in the coming weeks and months.

Other COVID-19 News
Recent Summaries and Research Reports
CDC's COVID Data Tracker Weekly Review highlights key data from its COVID Data Tracker, narrative interpretations of the data, and visualizations from the week. Themes of recent Weekly Review issues include COVID-19 guidance for camps and summer schools; boosting for children 5 to 11 years old; boosting for adults and adolescents; and one million COVID-19 deaths.
The Morbidity and Mortality Weekly Report (MMWR) is also providing continuing coverage of COVID-19-related research. CDC is archiving its MMWR reports on a page devoted to studies about COVID-19. For your convenience, we have compiled below links to recent MMWR papers:
COVID-19 Cases and Hospitalizations Among Medicare Beneficiaries With and Without Disabilities – United States, January 1, 2020-November 20, 2021
Notes from the Field: COVID-19-Associated Mortality Risk Among Long-Term Care Facility Residents and Community-Dwelling Adults Aged ≥65 Years – Illinois, December 2020 and January 2022
COVID-19 Vaccination Coverage, by Race and Ethnicity – National Immunization Survey Adult COVID Module, United States, December 2020-November 2021
Ventilation Improvement Strategies Among K-12 Public Schools – The National School COVID-19 Prevention Study, United States, February 14-March 27, 2022
COVID-19 Cases, Hospitalizations, and Deaths among American Indian or Alaska Native Persons – Alaska, 2020-2021
Post-COVID Conditions Among Adult COVID Survivors Aged 18-64 and ≥65 Years – United States, March 2020-November 2021