2019 National Transgender HIV Testing Day (April 18)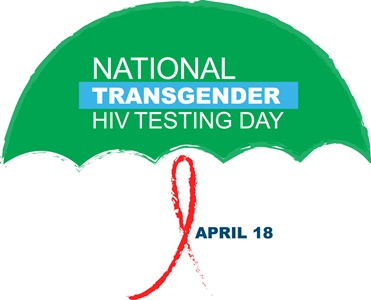 The fourth annual National Transgender HIV Testing Day (NTHTD) will be observed on Thursday, April 18. The event is organized by the University of California-San Francisco's Center of Excellence for Transgender Health (CoE). According to the CoE, NTHTD is a day to recognize the importance of routine HIV testing, status awareness, and continued focus on HIV prevention and treatment efforts among transgender people. This initiative encourages community-based organizations, health jurisdictions, and HIV prevention programs to participate by hosting local trans HIV testing in their community and distributing trans-specific HIV testing campaign materials and resources.
As part of the NTHTD initiative, the CoE has developed a Transgender HIV Testing Toolkit, which includes five modules designed to reflect the most current HIV prevention research and best practices for serving trans and gender non-binary people. The modules are: 1) Get the Facts about Trans People and HIV; 2) HIV Testing and Enhanced Communication Approaches with Trans People; 3) Building Capacity to Increase HIV Testing Efforts for Trans People; 4) Community Engagement and National HIV Transgender HIV Testing Day; and 5) NTHTD and Toolkit Resources. The CoE has also produced other resources for the testing day, including a condensed toolkit for health departments and testing placards in English and Spanish.
To support activities commemorating NTHTD, we have compiled an annotated list of online resources focusing on HIV/AIDS among transgender people.


General Information
Center of Excellence for Transgender Health – Website that includes many resources on transgender health
Transgender Persons – CDC's compilation of resources and fact sheets related to transgender health
Transforming Health: Patient-Centered HIV Prevention and Care campaign – CDC initiative and associated website that provides information and materials for health care providers, whole-care teams, social service providers, and transgender people, with the goal of reducing new HIV infections and improving the health of transgender people who are living with HIV
Transgender Health – Resource page from Fenway Health
National LGBT Health Education Center – Program of The Fenway Institute
Services and Advocacy for Gay, Lesbian, Bisexual, and Transgender Elders (SAGE) – Organization that provides services and advocacy for LGBT elders
LGBTQIA+ – Resource with a list of articles, trainings, and online publications compiled by the Lesbian, Gay, Bisexual, and Transgender Resource Center at the University of California-San Francisco
All Children-All Families: Benchmarks of LGBTQ Cultural Competency – from the Human Rights Campaign


Selected Articles and Abstracts
"We Have a Stronger Survival Mode": Exploring Knowledge Gaps and Culturally Sensitive Messaging of PrEP Among Latino Men Who Have Sex with Men and Latina Transgender Women in Los Angeles, CA (AIDS Care)
Computer-Mediated Communication to Facilitate Synchronous Online Focus Group Discussions: Feasibility Study for Qualitative HIV Research Among Transgender Women Across the United States (Journal of Medical Internet Research)
Striving to Characterize Endocrine-Metabolic and Immune Health Risks Among Transgender Women with HIV (AIDS)
Barriers to Accessing Sexual Health Services for Transgender and Male Sex Workers: A Systematic Qualitative Meta-Summary (AIDS and Behavior)
Transhealth Information Project: A Peer-Led HIV Prevention Intervention to Promote HIV Protection for Individuals of Transgender Experience (Health & Social Work)
Situated Vulnerabilities, Sexual Risk, and Sexually Transmitted Infections' Diagnoses in a Sample of Transgender Youth in the United States (AIDS Patient Care and STDs)
Documenting Research with Transgender, Nonbinary, and Other Gender Diverse (Trans) Individuals and Communities: Introducing the Global Trans Research Evidence Map (Transgender Health)
Longitudinal Analysis of Syndemic Psychosocial Problems Predicting HIV Risk Behavior Among a Multicity Prospective Cohort of Sexually Active Young Transgender Women in the United States (Journal of Acquired Immune Deficiency Syndromes)
Utilization and Avoidance of Sexual Health Services and Providers by YMSM and Transgender Youth Assigned Male at Birth in Chicago (AIDS Care)
Hepatitis C Seroprevalence and Engagement in Related Care and Treatment Among Trans Women (Journal of Viral Hepatitis)
Variations in Testing for HIV and Other Sexually Transmitted Infections Across Gender Identity Among Transgender Youth (Transgender Health)
Genetic Clusters and Transmission in Transgender Women (Lancet HIV)
HIV Transmission Networks Among Transgender Women in Los Angeles County, CA, USA: A Phylogenetic Analysis of Surveillance Data (Lancet HIV)
Optimizing HIV Prevention and Care for Transgender Adults (AIDS)
Partnership-Level Correlates of Sexual Risk Taking Within the Sexual Partnerships of Young Transwomen in San Francisco, California (Sexually Transmitted Infections)
Challenges in HIV infection Control in Transgender Women Sex Workers (Lancet Public Health)
Transgender Identity and Experiences of Violence Victimization, Substance Use, Suicide Risk, and Sexual Risk Behaviors Among High School Students – 19 States and Large Urban School Districts, 2017 (Morbidity and Mortality Weekly Report)
Unmet Health Care Needs Among Young Transgender Women at Risk for HIV Transmission and Acquisition in Two Urban U.S. Cities: The LifeSkills Study (Transgender Health)
Transgender Persons' HIV Care (Dis)engagement: A Qualitative Evidence Synthesis Protocol from an Ecological Systems Theory Perspective (BMJ Open)
Metabolic Syndrome and Endocrine Status in HIV-Infected Transwomen (AIDS)
Drivers of HIV Infection Among Cisgender and Transgender Female Sex Worker Populations in Baltimore City: Results from the SAPPHIRE Study (Journal of Acquired Immune Deficiency Syndromes)
A Multilevel Analysis of Social Network Characteristics and Technology Use on HIV Risk and Protective Behaviors Among Transgender Women (AIDS and Behavior)
Transgender and Other Gender-Diverse Youth's Progression Through the HIV Continuum of Care: Socioecological System Barriers (AIDS Patient Care and STDs)
Day-Level Associations Between Substance Use and HIV Risk Behavior Among a Diverse Sample of Transgender Women (Transgender Health)
The Social and Sexual Networks of Black Transgender Women and Black Men Who Have Sex with Men: Results from a Representative Sample (Transgender Health)
Increased Ascertainment of Transgender and Non-Binary Patients Using a 2-Step Versus 1-Step Gender Identity Intake Question in an STD Clinic Setting (Sexually Transmitted Diseases)
Reduction in Gaps in High CD4 Count and Viral Suppression Between Transgender and Cisgender Persons Living with HIV in New York City, 2007-2016 (American Journal of Public Health)
Estimating the Prevalence of HIV and Sexual Behaviors Among the U.S. Transgender Population: A Systematic Review and Meta-Analysis, 2006–2017 (American Journal of Public Health)
AIDS United Awards $115,000 to Support and Expand Transgender Leadership (AIDS United)