2019 HIV/HCV Co-infection Awareness Day (May 17)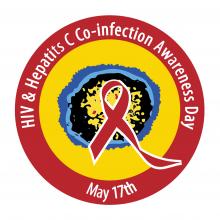 Last year, the AIDS Education and Training Centers (AETC) Co-infection Community of Practice and Learning (COPL) designated May 17 as the first HIV/HCV Coinfection Awareness Day (HHCAD). According to COPL, the date was chosen to complement HIV Vaccine Awareness Day (May 18), Hepatitis Testing Day (May 19), and National Asian and Pacific Islander HIV Awareness Day (May 19). May is also Hepatitis Awareness Month.
The U.S. Centers for Disease Control and Prevention (CDC) has estimated that about 25% of all persons living with HIV in the U.S. are co-infected with the hepatitis C virus (HCV). AETC notes that, "HIV/HCV Co-infection Awareness Day provides an opportunity for healthcare providers and health departments to educate colleagues, constituents, and clients about the importance of curing HCV infection in people living with HIV."
Healthcare professionals can consult HIV/HCV Co-infection: An AETC National Curriculum to increase their knowledge about HIV/HCV co-infection prevention, screening, diagnosis and treatment, as well as the barriers and co-factors that impede optimal treatment outcomes for co-infected people of color, in particular.
To further increase knowledge and awareness of HIV/HCV co-infection and to support activities commemorating HHCAD, we have compiled the following annotated list of online resources.


General Information
Coinfection with HIV and Viral Hepatitis – This CDC brief includes basic information about transmission, prevention, and treatment of HIV and viral hepatitis.
HIV and Hepatitis C – This fact sheet from AIDSinfo describes what HCV is, how it is transmitted, the connection between HIV and HCV, and HCV prevention, testing, symptoms, and treatment. Also available in Spanish.
HIV/HCV Co-infection: An AETC National Curriculum – This comprehensive curriculum includes the following six core modules: epidemiology; prevention; screening, testing, and diagnosis; HCV treatment; recommendations for subpopulations of HIV/HCV co-infected persons; and addressing barriers for co-infected people of color.
Considerations for Antiretroviral Use in Patients with Coinfections – This section of the HHS Guidelines for the Use of Antiretroviral Agents in Adults and Adolescents Living with HIV includes recommendations for screening people living with HIV for viral hepatitis, including HCV; vaccinating for hepatitis A and B; providing antiretroviral therapy for HIV to co-infected persons; and concurrent treatment of HIV and HCV.
Patients with HIV/HCV Coinfection – This is a section of HCV Guidance: Recommendations for Testing, Managing, and Treating Hepatitis C from the American Association for the Study of Liver Diseases (AASLD). It includes tables of recommendations on managing interactions of the drugs used to treat HCV and HIV, as well as guidance regarding regimens not recommended for persons with HIV/HCV co-infection.
HCV Advocate/Hepatitis C Support Project – This website has extensive resources about HCV, including a section devoted to HIV/HCV Co-infection.
Selected Recent Articles

From Incarceration to Post-Release, Local Programs Improve Inmate Care for HIV and Hepatitis C (TheBodyPro)
High Efficacy of Interferon-Free Therapy for Acute Hepatitis C in HIV-Positive Patients (United European Gastroenterology Journal)
Trends in Cause-Specific Mortality in HIV-Hepatitis C Coinfection Following Hepatitis C Treatment Scale-Up (AIDS)
More Confirmation That Hep C Treatment Is Highly Effective in Those with HIV (Poz)
Among English Gay & Bi Men, Hep C Is Increasingly Seen in Those Without HIV (Poz)
Hepatitis C Drugs for All Genotypes Curing Almost Everyone Who Completes Treatment, Real-World Studies Show (AIDSmap)
Georgia and Idaho Legalize Needle Exchanges to Stop HIV and Hep C (Poz)
Liver Cancer Survival in People with Hep C Not Tied to HIV Status (Poz)
Gay & Bi Men with HIV Cured of Hep C Are Reinfected at High Rate (Poz)
Hepatitis C Drops Among HIV-Positive London Gay Men After Direct-Acting Antiviral Scale-Up (AIDSmap)
HIV Transmission Rate Plunges in Gay & Bi Men in the U.K. (Poz)
Video: Engaging Young MSM in Prevention Strategies, Treatment (Healio)
IV Drug Use, HCV Predict Syphilis in Women with HIV (Healio)
In Those with HIV, Curing Hep C Tied to Less Severe Liver Disease (Poz)
Effectiveness of Direct-Acting Antiviral Therapy in Patients with Human Immunodeficiency Virus-Hepatitis C Virus Coinfection in Routine Clinical Care: A Multicenter Study (Open Forum Infectious Diseases)
Direct-Acting Antiviral Treatment Failure Among Hepatitis C and HIV-Coinfected Patients in Clinical Care (Open Forum Infectious Diseases)
Post-Hep C Cure, Liver Improvement in Those with Cirrhosis Isn't Tied to HIV Status (Poz)
Better Immune Outcomes in HIV/HCV Co-Infection with DAA Regimen (Infectious Disease Advisor)
New Professional Resources for Providers to Address HIV/HCV Coinfection (TheBodyPro)
HIV No Longer Raises Risk of Severe Liver Disease in Those with Hep C (Poz)
Co-Infection with HIV and HCV Does Not Increase the Risk of End-Stage Liver Disease or Liver Cancer (AIDSmap)
CD4 Cells Decline After People with HIV Contract Hepatitis C (Poz)