2019 Cervical Health Awareness Month (January) and HPV-Related Cancers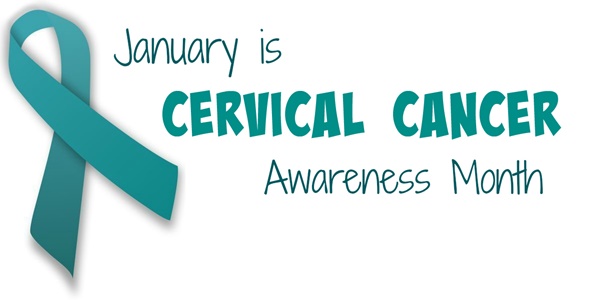 An estimated 13,240 women were diagnosed with invasive cervical cancer in the U.S. during 2018, and about 4,170 died as a result of that cancer. Infection with certain cancer-causing strains of the human papillomavirus (HPV) has been linked to the development of cervical cancer in women, penile cancer in men, and anal cancer and cancers affecting the throat, tongue, and tonsils in both men and women. In addition, invasive cervical cancer and anal cancer occur at significantly higher rates among persons living with HIV than among the general population.
For women, screening is available to detect most cases of cervical cancer with a Pap smear. Unfortunately, there is no routine screening for other HPV-related cancers for women or men – although some groups have advocated for anal cancer screening among HIV-infected men and women.
However, an effective vaccine is now available to prevent infection involving the most common cancer-causing strains of HPV. The U.S. Centers for Disease Control and Prevention (CDC) estimates that HPV vaccination has the potential to prevent about 90% of all cases of HPV-related cancers in the U.S.
The U.S. Congress has designated January as Cervical Health Awareness Month. Each year, the National Cervical Cancer Coalition and American Sexual Health Association encourage women across the country to get screened for cervical cancer and receive the HPV vaccine if they are eligible.
We have compiled the resources below to help you, your colleagues, and clients or patients become more informed about cervical and other HPV-related cancers, screening, and vaccination.


General Information About HPV and HPV-Related Cancers
Human Papilloma Virus (Poz)
HPV and Cervical Cancer in HIV-Positive Women (TheBody)
Human Papillomavirus (HPV) (TheWellProject)
Cervical Cancer (American Cancer Society)
Cervical Cancer and HIV – Two Diseases, One Response (UNAIDS)
Cervical Cancer in Women with HIV (AIDSmap)
HIV and Cancer Risk (National Cancer Institute)
Anal Cancer Treatment (National Cancer Institute)
Anal Cancer: Distribution in the Population and Causes (UCSF Department of Medicine)
Living with Anal Cancer: Frequently Asked Questions (HPV and Anal Cancer Foundation)
Guidelines for the Prevention and Treatment of Opportunistic Infections in HIV-Infected Adults and Adolescents – These are recommendations from CDC, the National Institutes of Health, and the HIV Medicine Association of the Infectious Diseases Society of America
Screening for HPV and HPV-Related Cancers
Get Screened: January Is Cervical Health Awareness Month (Healthy Women)
Gynecologic Cancers: What Should I Know About Screening? (CDC)
Cervical Cancer: Screening Recommendations (U.S. Preventive Services Task Force)
Cervical Cancer Screening (PDQ) – Patient Version (National Cancer Institute)
Cervical Cancer Screening: Frequently Asked Questions (American College of Obstetricians and Gynecologists)
Cervical Screening for Dysplasia and Cancer (New York State Department of Health AIDS Institute)
HPV Vaccination
Diseases and the Vaccines that Prevent Them: HPV (CDC)
Human Papillomavirus (HPV) Vaccine Safety (CDC)
HPV (Human Papillomavirus) Vaccine (Vaccines.gov)
HPV Vaccines (WebMD)
HPV Vaccine Information for Young Women (CDC)
Should I Get the HPV Vaccine? (Planned Parenthood)
Recommendations on the Use of Quadrivalent Human Papillomavirus Vaccine in Males – Advisory Committee on Immunization Practices (ACIP), 2011 (CDC) – includes recommendations regarding HPV vaccination in gay, bisexual, and other men who have sex with men
Selected Recent Articles and Reports
Caring for a Woman's Body: Care and Prevention of GYN Problems (TheWellProject)
FDA Approves Expanded Use of Gardasil 9 [HPV Vaccine] to Include Individuals 27 Through 45 Years Old (U.S. Food and Drug Administration)
Human Papillomavirus Infection and Cervical Cancer in HIV+ Women (Cancer Treatment and Research)
The Facts About HIV and Cervical Cancer: Despite Advances, the Incidence Among Women with HIV Remains Unchanged (Very Well Health)
HPV-Related Cancer Prevention and Control Programs at Community-Based HIV/AIDS Service Organizations: Implications for Future Engagement (Frontiers in Oncology)
Racial Differences in Human Papilloma Virus Types Amongst United States Women with HIV and Cervical Precancer (AIDS)
HIV and Cervical Cancer – A Perfect Storm for Women in Africa (Avert)
The Role of HIV in the Progression Through the Stages of the Human Papillomavirus to Cervical Cancer Pathway (AIDS Reviews)
Projected Cancer Incidence Rates and Burden of Incident Cancer Cases in HIV-Infected Adults in the United States Through 2030 (Annals of Internal Medicine)
How HIV Affects Cervical Cancer Risk and Outcomes (Infectious Disease Advisor)
Cervical Cancer Control in HIV-Infected Women: Past, Present, and Future (Gynecologic Oncology Reports)
HPV, HIV, and Cervical Cancer: Leveraging Synergies to Save Women's Lives (UNAIDS)