2018 World AIDS Day (December 1)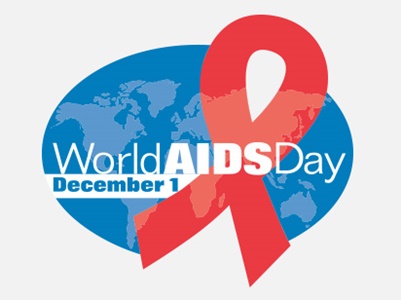 On Saturday, December 1, the global community will observe the 31st annual World AIDS Day. According to UNAIDS, about 36.9 million people were living with HIV worldwide during 2017. Of this total, about 35.1 million were adults (aged 15 years and older), and 1.8 million were children. Substantial progress has been made to reduce the number of new HIV infections and AIDS-related deaths and to increase the number of people receiving effective antiretroviral treatment (ART). During 2017:
An estimated 1.8 million people worldwide were newly infected with HIV. The annual number of new infections has declined about 15% globally since 2010.
About 940,000 people died of AIDS-related illnesses. Global AIDS-related deaths have fallen by more than half (51%) from the peak of about 1.9 million in 2004.
Globally, tuberculosis remains the leading cause of death among people living with HIV – accounting for about one-third of all AIDS-related deaths.
About four in five (80%) pregnant women living with HIV had access to ART to prevent transmission of HIV to their babies.
To help you and your patients or clients prepare for and commemorate World AIDS Day, we have compiled an annotated list of online resources focusing on the HIV/AIDS epidemic at the global and national levels.
The Global HIV/AIDS Epidemic
UNAIDS Website – This website includes information about HIV/AIDS policies and programs, regional information, global statistics, and news. Highlights include the following pages and recent reports:

Global HIV & Tuberculosis. This CDC web page includes statistics on HIV and TB in numerous countries, as well as U.S. efforts to help heavily affected nations respond effectively to both epidemics.


Kaiser Family Foundation Information About the Global Epidemic
Avert.org Information About the Global Epidemic and the Epidemic in Specific Regions

The U.S. HIV/AIDS Epidemic
Planning Documents
National HIV/AIDS Strategy: Updated to 2020. This 74-page document developed by the Obama Administration is designed to guide the U.S. HIV/AIDS response through the year 2020. It outlines a series of steps needed to achieve four primary goals: 1) reducing new HIV infections; 2) increasing access to care and improving health outcomes for people living with HIV; 3) reducing HIV-related disparities and health inequities; and 4) achieving a more coordinated national response to the U.S. HIV epidemic.
Federal Action Plan for 2016-2020. This 40-page plan developed by the Obama Administration outlines specific actions federal agencies are taking to implement the updated National HIV/AIDS Strategy above.


Resources Focusing on the U.S. Epidemic and Specific Population Groups from the CDC
Fact Sheets
Slide Sets
Additional Resources Focusing on the U.S. Epidemic
State Health Facts: HIV/AIDS. Web page from the Kaiser Family Foundation with links to a wealth of state-level statistics, including data on the following: number of people living with HIV; number of AIDS diagnoses; number of HIV diagnoses; HIV death rates; HIV/AIDS funding; AIDS Drug Assistance Programs; HIV and Medicaid; HIV testing; and HIV prevention programs and related policies.
NCHHSTP AtlasPlus. This atlas, from the National Center for HIV/AIDS, Viral Hepatitis, STD, and TB Prevention (NCHHSTP), is designed to be a "one-stop shop" for CDC's most recent available data on HIV, viral hepatitis, STDs, and tuberculosis.
AIDSVu. Interactive online map depicting various aspects of the U.S. HIV/AIDS epidemic at the state and county levels, as well as for selected cities.
HIV and AIDS in the United States of America. Web page with detailed, annotated overview of the U.S. epidemic from Avert.org.