2018 National Latinx AIDS Awareness Day Resources (October 15)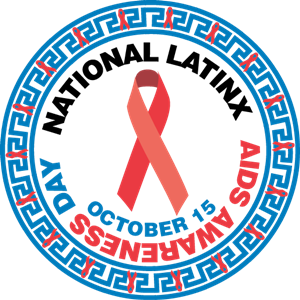 This year, National Latinx AIDS Awareness Day (NLAAD) will be held on Monday, October 15. The theme for 2018 is "Ending HIV is Everyone's Job," and an important focus for this year's observance is on the tools available to address HIV in Latinx communities. The Latino Commission on AIDS coordinates the NLAAD campaign on a national level, providing support for many participating local agencies that plan and organize events to mark the day. The main goals of this annual observance include raising HIV/AIDS awareness and promoting HIV testing, prevention, and education in Latinx communities. Some organizations also use NLAAD as an opportunity to raise awareness about other major health challenges, including viral hepatitis, sexually transmitted infections, and tuberculosis.
To help you and your patients or clients prepare for and mark the day, we have compiled an annotated list of online resources focusing on the impact of HIV/AIDS in Latinx communities.


General Information
National Latinx AIDS Awareness Day. Web page for NLAAD. Includes links for fact sheets, posters, banners, infographics, an event planning guide, and information about registering events to mark the day.
HIV/AIDS and Hispanic Americans. Web page from the Office of Minority Health with detailed statistical information about HIV testing, HIV and AIDS cases, and death rates among Hispanic/Latino Americans.
HIV and Hispanics/Latinos. Fact sheet from the Centers for Disease Control and Prevention (CDC).
Recursos en Español. This page on the HIV.gov website links to resources in Spanish from a number of sources.
HIV in the United States: At a Glance. This fact sheet provides an overview of HIV in the U.S., including information about disproportionately high HIV rates among Hispanics/Latinos. Also available in Spanish.
Diagnoses of HIV Infection in the United States and Dependent Areas, 2016. This CDC surveillance report includes breakdowns of HIV and AIDS diagnoses, deaths, and prevalence among Hispanics/Latinos and other racial/ethnic groups.
HIV/AIDS in the U.S. Latino Community. Web page from TheBody.com with links to articles and resources.
The Body en Español. This section of TheBody.com site organizes its Spanish-language resources, including guides, articles, and fact sheets. The Centro de Recursos Para Latinos subsection has information for and about persons living with HIV/AIDS in Latinx communities.


Selected Recent Reports, Articles, and Research Papers on HIV and Hepatitis in Latinx Communities
Illuminating the Needs of the Forgotten "Olvidados": A National Assessment of Latinos Growing Older with HIV. (Latino Commission on AIDS and the Hispanic Health Network)
PrEP as Integrated Care: Removing Barriers, Addressing Real Needs (TheBody)
National Latinx Leaders Address the Community's HIV Crisis (Poz)
Puerto Rican HIV Activists Continue Post-Hurricane Maria Fight Despite U.S. Indifference and Local Corruption (TheBody)
Latinx People Living with HIV Share How They Came to Terms with Their Diagnosis (TheBody)
For Immigrants Living with HIV, an Impossible Choice Between Viral Suppression and Deportation (TheBody)
No Shame in Sin Vergüenza: A Bilingual Telenovela Targets HIV Stigma (Positively Aware)
'Organize Our Anger, Defend Our Happiness': Marco Castro-Bojorquez on the Vision of HIVenas Abiertas, a Network of Latinx Immigrants with HIV Resisting Social Neglect (TheBody)
Latinos and Those on Medicaid Less Likely to Get Hepatitis C Treatment (Poz)
Concerns: PrEP Disparities (Poz)
Crystal Meth Use Among Young Latinx Gay Men in Southern California Is Rising, According to Community Advocates (TheBody)
What Encourages Black and Latinx Trans Women to Take PrEP? (TheBody)
Diabetes and Prediabetes Rates Are Rising Fast Among People with HIV (Poz)
U.S. Genotyping Survey Finds Rapid HIV Infection Rate in Young and Latino Gay Men (AIDSmap)
Rates of HIV Are Rising Among Latinx Gay Men in the U.S.: Are Anti-Immigration Policies to Blame? (TheBody)
CDC Details PrEP's Woefully Low Use Among Blacks and Latinos (Poz)