National HIV/AIDS and Aging Awareness Day (September 18th)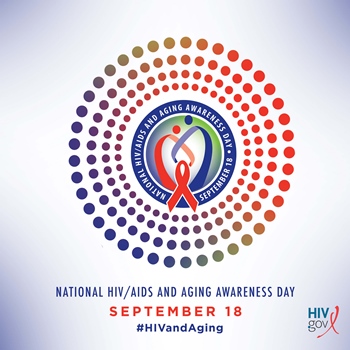 National HIV/AIDS and Aging Awareness Day (NHAAAD) will be observed on September 18. Over half (53%) of all persons living with HIV in the U.S. were age 50 and older during 2020. In addition, about one-sixth (16.5%) of all new HIV diagnoses during that year were among persons in this age group. According to the AIDS Institute, which launched NHAAAD in 2008, the goals of this awareness day are "to emphasize the need for prevention, research, and data focused on the aging community and increase medical understanding of the impact of HIV on the natural aging process. Through action, we hope to increase the quality of life for people living with HIV. Through awareness, we hope to reduce stigma surrounding HIV."
In particular, NHAAAD raises awareness about the following:
the large number of people living with HIV who are aging with the disease or are already over 50 at the time of their initial diagnosis;

the need to increase HIV prevention, treatment, and care messaging for older adults, especially the Baby Boomer population; and

the role of grandparents as the primary guardians for children who have lost one or both parents to HIV.
To help you and your patients or clients prepare for and mark NHAAAD, we have compiled an annotated list of online resources focusing on HIV among older persons.
You may wish to start with the Older People and HIV web page from NEAETC's Online HIV Resource Library. This page focuses specifically on the intersection between aging and HIV and its effects on people aged 50 years or older. The page has a downloadable education packet, as well as curated and annotated resources, including fact sheets; surveillance data; guidelines, recommendations, and reports; and compiled resources from a variety of sources.
Resources from the U.S. Department of Health and Human Services (HHS)
HHS and its agencies and offices – including the U.S. Centers for Disease Control and Prevention (CDC) – have developed and compiled extensive resources about HIV among older persons.
National HIV/AIDS and Aging Awareness Day – This is the official HIV.gov web page for NHAAAD, with links to an event planning guide, a social media kit, fact sheets, HIV surveillance data, and other materials.
HIV/AIDS and Aging Awareness – This is the gateway to the AIDS Institute's resources focusing on NHAAAD and on aging with HIV, including an educational toolkit and video, infographics, recent issues of the Institute's Aging Healthy Resources newsletter, and links to related resources from government agencies and organizations. Additional information is provided about the history of NHAAD, as well as ways people can become involved in raising awareness about HIV among older persons.
HIV in the United States by Age – This CDC web page links to data on HIV among different age groups, including people age 55 and older. Information is provided on HIV risk behaviors, pre-exposure prophylaxis (PrEP) coverage, HIV incidence, HIV diagnoses, knowledge of HIV status, viral suppression rates, prevention challenges, and what CDC is doing to address HIV in different age groups.
HIV and Older People – This fact sheet from HHS's HIVinfo site examines the impact of HIV on persons 50 and older, their risk factors for HIV infection, CDC's HIV testing recommendations for older persons, and special considerations when providing HIV care and treatment to older persons.
Growing Older with HIV – This fact sheet from HIV.gov summarizes recent statistics on HIV among older persons, together with information about potential health complications associated with aging, complications associated with long-term HIV infections, late HIV diagnosis among older persons, COVID-19 and older adults with HIV, and the importance of support services for this population group.
Considerations for Antiretroviral Use in Special Patient Populations: HIV and the Older Person – This section of the HHS Guidelines for the Use of Antiretroviral Agents in Adults and Adolescents Living with HIV focuses on key considerations when caring for older persons receiving HIV treatment.
Diagnoses of HIV Infection in the United States and Dependent Areas, 2020 – This CDC surveillance report provides detailed data on the incidence and prevalence of HIV infection, with breakdowns by age, race/ethnicity, gender, transmission category, and region. For adults aged 50 and over, data are divided into four age subcategories: 50 to 54 years, 55 to 59 years, 60 to 64 years, and 65 years and older.
Estimated HIV Incidence and Prevalence in the United States: 2015-2019 – This CDC surveillance report provides detailed data on recent trends in the incidence and prevalence of HIV infection, with breakdowns by age, race/ethnicity, gender, transmission category, and region. The age data include statistics for older persons aged 55 years and above.
Additional Resources
National Resource Center on HIV & Aging – This GMHC online resource links to reports, infographics, and slide sets on a range of topics related to HIV and aging, including affected communities, physical and mental health conditions, wellness, and health management.
Aging and HIV – This fact sheet from The Well Project examines how the number of older persons with HIV is increasing; issues related to living and aging with HIV; aging-related health challenges; HIV treatment, stigma, and social support; and steps older persons with HIV can take to monitor and optimize their health.
SAGE: Advocacy & Services for LGBT Elders – This website includes an HIV/AIDS section with several fact sheets and issue briefs that focus on HIV and aging, with particular emphasis on LGBT persons.
Ten Things Every LGBT Older Adult Should Know About HIV/AIDS – This fact sheet from SAGE includes background information about HIV infection and its effects on older adults, populations at greatest risk, HIV prevention, talking with providers, LGBT-affirming health care, and support networks.
Olvidados – Illuminating the Needs of the Forgotten: A National Health Assessment of Latinos Growing Older with HIV – This report from the Latino Commission on AIDS and the Hispanic Health Network summarizes the health concerns, obstacles to optimal health, and facilitators for well-being among older Latinos. It also includes recommendations for meeting the unmet needs of this population group.