National Youth HIV and AIDS Awareness Day (April 10th)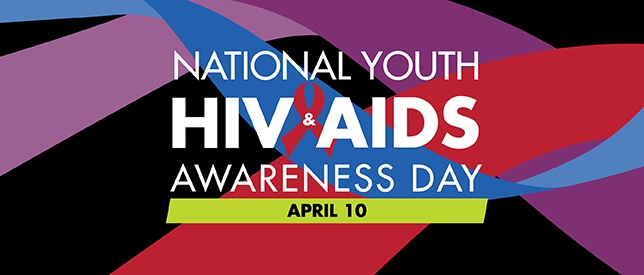 National Youth HIV and AIDS Awareness Day (NYHAAD) is observed April 10. Many national, state, and private organizations are partners or supporters of NYHAAD. Advocates for Youth notes that, "Today's young people are the first generation who have never known a world without HIV and AIDS." In the U.S. during 2019, about one in five (21%) new HIV infections occurred among youth between 13 and 24 years old. Unfortunately, only about 55% of youths living with HIV know they are infected.
In addition, compared to all people with HIV, youth have the lowest rates of viral suppression. The viral suppression rate among youth with diagnosed HIV infection is 60%. When youth unaware of their HIV status are included in the calculation, only about one-third of all youths with HIV are virally suppressed. "Addressing the impact of HIV on young people requires they have access to affirming, culturally competent, and medically accurate resources and tools," according to Advocates for Youth.
To raise awareness and support activities commemorating NYHAAD, we have compiled an annotated list of online resources focusing on HIV/AIDS among children, adolescents, and young adults. For additional information on this topic, you can visit NEAETC's Online HIV Resource Library page focusing on Youth and HIV.


Online Resources
National Youth HIV and AIDS Awareness Day – This is Advocates for Youth's web page for NYHAAD. It provides background information about the day, together with links to resources focusing on issues related to HIV among youth, including toolkits, reports, articles, and videos.
HIV and Youth (CDC) – This web page gives a brief overview of HIV in young people in the U.S., and links to related pages with more detailed information on the following topics: HIV risk behaviors, pre-exposure prophylaxis (PrEP) coverage, HIV incidence, HIV diagnoses, knowledge of HIV status, viral suppression, prevention challenges, and what CDC is doing to reduce stigma, support HIV testing, prevent new infections, and improve HIV treatment and care in youth. Also available in Spanish.
HIV and Children and Adolescents (HIVinfo) – This fact sheet in question-and-answer format discusses how children and adolescents become infected with HIV, as well as new HIV diagnoses, HIV risk factors, treatment, and medication adherence challenges among children and adolescents. Also available in Spanish.
Youth and Young Adult Clients: Ryan White HIV/AIDS Program, 2019 (Health Resources and Services Administration) – This fact sheet summarizes selected demographic characteristics of youth and young adults 13 to 24 years old in the Ryan White HIV/AIDS Program (RWHAP). About one in 25 (4%) of the nearly 568,000 RWHAP clients in 2019 were youth and young adults.
HIV and Young Women and Girls in the United States. This fact sheet from Advocates for Youth examines the systemic barriers that place young women and girls at risk for HIV, and includes recommendations to reduce the impacts of HIV on young women and girls.
STDs & HIV: Get the Facts, Learn the Risks, Protect Yourself. This brochure from Advocates for Youth answers frequently asked questions about HIV prevention and access to care and services for youth. It also includes plain-language information about a range of HIV prevention options, as well as the signs, symptoms, testing, and treatment of sexually transmitted diseases.
HIV Surveillance – Adolescents and Young Adults. This slide set from CDC focuses on HIV among youth, with data breakdowns by age, gender, race/ethnicity, transmission category, and geographic area.
Youth Risk Behavior Surveillance – United States, 2019. This special supplement to the Morbidity and Mortality Weekly Report has extensive demographic and risk information for U.S. students in grades 9 through 12.
HIV and Young People (AVERT/Be in the KNOW) – This web page provides information about HIV risk and HIV service needs among youth, as well as systemic changes that could reduce HIV risk among youth.
Being Young and HIV Positive (AVERT/Be in the KNOW) – This web page focuses primarily on the concerns of young people with HIV, treatment adherence among young people with HIV, and the life stories of several young people of varying backgrounds living with HIV.
Talking with Your Children about HIV: HIV Awareness for Children. This fact sheet from the Well Project provides basic information about HIV in plain language, guidance on how parents can start discussions about HIV with their children (including adolescents), advice on talking to children of different ages, and tips on how parents can take care of themselves when they have potentially difficult conversations about HIV with their children.
National HIV Curriculum: HIV in Adolescents and Young Adults (AIDS Education and Training Center, University of Washington, and other partners, updated 2020) – This is the second lesson in the Curriculum's Key Populations module. It includes detailed information on many topics, including:
Epidemiology of HIV in adolescents and young adults

Testing, linkage to care, and retention in care

Clinical and laboratory monitoring

Antiretroviral therapy for adolescents with HIV

Adherence to antiretroviral therapy

PrEP for adolescents

Immunizations for adolescents with HIV

Adolescent sexuality, gender, and reproductive health

Special considerations for youth with perinatal HIV

Transitioning to adult care
Myth-Busting HCV Treatment: Integrated Models of HCV Care Delivery (New England AETC, November 2021) – This part of the "Myth-Busting HCV Treatment" series describes the process of care and patient outcomes in a practice serving young injection drug users with integrated HCV treatment services and opioid use disorder services.
Managing Sexual Health in Adolescents (New England AETC, June 2021) – In this webinar, presenters discuss a status-neutral approach for addressing sexual health in adolescents and provide information about preventing and addressing sexually transmitted infections and HIV in adolescents.
Adapting HIV Service for Youth During COVID-19 and Beyond (Pacific AETC, March 2021) – This webinar examines the landscape for youth engagement in HIV care services, and identifies the key elements of a client/patient-centered approach in providing HIV services to youth.