National Women and Girls HIV/AIDS Awareness Day (March 10)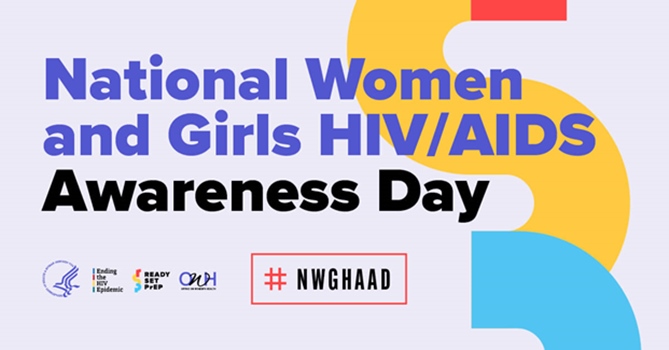 The 17th annual National Women and Girls HIV/AIDS Awareness Day (NWGHAAD) will be observed on Thursday, March 10. The main purpose of NWGHAAD is to raise awareness of the impact of HIV/AIDS on women and girls, spark conversations, and highlight the work being done to reduce HIV among women and girls in the U.S. while showing support for those with HIV.
To help you and your patients or clients mark this day, we have compiled an annotated list of online resources focusing on HIV/AIDS among women and girls in the U.S. For additional information on this topic, you might also visit NEAETC's Online HIV Resource Library page focusing on Women and HIV.


Fact Sheets, Infographics, and Reports
HIV and Women – This web page gives a brief overview of HIV diagnoses among women in the U.S., and links to related pages with more detailed information on the following topics: HIV risk behaviors, PrEP coverage, HIV incidence, HIV diagnoses, knowledge of HIV status, viral suppression, prevention challenges, and what CDC is doing to reduce stigma, support HIV testing, prevent new infections, and improve HIV treatment and care in women. Also available in Spanish.
HIV and Women – This HIVinfo fact sheet in question-and-answer format provides information on how HIV affects women, factors that put women at risk for HIV, and the ways that birth control and pregnancy may affect women's HIV treatment options. Also available in Spanish.
Women and HIV in the United States – This fact sheet from the Kaiser Family Foundation provides excellent summary information on the impact of HIV on U.S. women. The fact sheet includes: a snapshot of the epidemic; a review of key trends and recent cases, with breakdowns by age and race/ethnicity; information on reproductive health and HIV transmission specific to women; intimate partner violence and HIV; and HIV testing, care, and treatment among women.
HIV Among Pregnant Women, Infants, and Children – This CDC fact sheet, updated in 2022, includes information about trends in mother-to-child transmission of HIV; why pregnant women and their babies are at risk for infection; steps pregnant women should take to protect their health and the health of their babies; perinatal HIV infection diagnoses and trends, with breakdowns by race/ethnicity; prevention challenges; and steps CDC is taking to address perinatal transmission.
Infographics on Women and HIV (AIDSVu)
Diagnoses of HIV Infection in the United States and Dependent Areas, 2019 (CDC) – This 123-page surveillance report includes detailed information about new HIV diagnoses, prevalence, and deaths among women. Breakdowns are also provided by age, race/ethnicity, transmission category, and geographic region. The report includes a series of Special Focus Profiles highlighting six populations of particular interest to HIV prevention programs in state and local health departments, including women. In addition, Tables 3a, 3b, 13a, 13b, 17a, and 17b focus specifically on HIV diagnoses, deaths, and prevalence by sex at birth. Some other tables that focus on different characteristics also include breakdowns by sex at birth.
Estimated HIV Incidence and Prevalence in the United States, 2015-2019 (CDC) – This report provides estimates of the number of new HIV infections and the total number of persons living with HIV during each year from 2015 through 2019. It begins with a commentary section that summarizes highlights of the report, followed by 13 tables that present data on HIV incidence and prevalence among adults and adolescents, with breakdowns by sex at birth, age, race/ethnicity, transmission category, and region of residence. The sex at birth data include statistics for adult and adolescent women. In addition, the transmission category data include breakdowns by sex at birth for heterosexual contact and injection drug use. An appendix focuses on the estimated incidence and prevalence of HIV infection among adults and adolescents living in Ending the HIV Epidemic (EHE) Phase 1 jurisdictions.
Women and HIV: A Spotlight on Adolescent Girls and Young Women – This report from UNAIDS discusses U.N. goals for addressing HIV in adolescent girls and young women; the epidemiology of HIV in this population group; the reasons, including gender-based violence, why adolescent girls and young women globally have a disproportionately high risk of HIV infection; access to HIV services; and the healthcare, reproductive, and HIV-specific needs of girls and women throughout their life cycle.
Women and Girls, HIV and AIDS – This is a global overview of HIV/AIDS among women from Avert.org. Topics covered include: the factors that place some women and girls at high risk for becoming infected with HIV; HIV counseling, testing, and antiretroviral treatment among women and girls; efforts to reduce mother-to-child transmission of HIV; and HIV prevention programs focusing on women and girls. This document also includes numerous citations with hyperlinks to source research papers and reports.
Selected Web Sites and Organizations
Both HIV.gov and the HHS Office of Women's Health have established web pages for NWGHAAD. The HIV.gov page has links to an event planning guide, tips on using social media to promote NWGHAAD events, an HIV testing and services locator, NWGHAAD-related graphics, and ideas for people to get involved in commemorating NWGHAAD. The Office of Women's Health page has information about HIV in women and girls, an NWGHAAD fact sheet, and ideas for observing the day.
The Well Project – This web site focuses on HIV prevention, treatment, and wellness among women living with, or at risk for, HIV infection. The Well Project has also established an active online community of women with HIV, which includes the A Girl Like Me blog where women and girls can share their experiences and promote understanding of HIV.
HIV/AIDS Resource Center for Women – This page on TheBody.com website includes news articles, features, personal stories, interviews, and opinion pieces about women and HIV. Topics cover a wide range including HIV prevention, living with HIV, love and relationships, sexuality, contraception, and pregnancy, and advocacy.