In Brief: December 21, 2021
Inside This Issue: CDC updates PrEP guidance; disparities in PrEP awareness among heterosexual adults; mRNA HIV vaccine shows promise in animal studies; little progress in reducing HIV infections among gay and bisexual men; recent reports, funding opportunities, and more.

Pre-Exposure Prophylaxis
Updated PrEP Guidance from CDC
Earlier this month, CDC published its updated Clinical Practice Guideline on the use of pre-exposure prophylaxis (PrEP) for the prevention of HIV infection, and an accompanying Clinical Providers' Supplement. The updated guideline and supplemental materials reflect the latest PrEP research, and were developed to help providers prescribe PrEP medications effectively and to increase PrEP use among all people who could benefit.
The new guideline includes a review of recent scientific evidence on the safety and efficacy of antiretroviral PrEP. It also has new or updated recommendations for:
informing sexually active adults and adolescents about the availability of PrEP;

taking a brief medical history to identify persons with indications for PrEP, and prescribing PrEP to all who request it;

prescribing emtricitabine and tenofovir alafenamide (Descovy) as an FDA-approved PrEP option for sexually active men and transgender women at risk for HIV infection;

prescribing bimonthly intramuscular injections of cabotegravir (CAB) for sexually active men and women who could benefit from PrEP;

doing initial and follow-up screening for sexually transmitted infections; and

implementing revised HIV testing strategies for patients currently receiving PrEP, as well as those who wish to begin PrEP.
This updated Clinical Providers' Supplement provides revised checklists, patient information sheets, and billing codes for both oral and injectable PrEP and includes guidance for counseling patients about adherence to PrEP. Additional details about both the guidance and the supplement are provided in a Dear Colleagues Letter by Dr. Demetre Daskalakis, director of CDC's Division of HIV Prevention.
Report Finds Large Disparities in PrEP Awareness Among High-Risk Heterosexual Adults
Although heterosexual sex accounts for nearly one-quarter (23%) of new HIV diagnoses in the U.S., heterosexual adults are underrepresented in PrEP research and campaigns. To learn more about PrEP awareness and use in this HIV risk group, CDC researchers analyzed National HIV Behavioral Surveillance (NHBS) data on heterosexually active adults in 23 cities with high HIV prevalence.
They found that, overall, only about one-third (32.3%) of heterosexually active adults who were eligible for PrEP were aware of its availability, and less than 1% actually used PrEP. The researchers also identified significant racial, ethnic, and gender disparities, with the lowest awareness of PrEP among residents of Puerto Rico (5.8%) and Hispanic or Latino (Hispanic) men and women (19.5% and 17.6%, respectively).
Awareness of PrEP was also low among persons who were born outside the U.S., and those who did not speak English well. However, given the high prevalence of HIV infection among Black persons, it was notable that their PrEP awareness was relatively higher than that among White or Hispanic persons. The CDC researchers speculated that this finding might be attributable to HIV prevention campaigns tailored toward Black persons. They concluded, "Previous studies have found that heterosexual adults are interested in taking PrEP when they are aware of it; tailoring PrEP messaging, including Spanish-language messaging, to heterosexual adults, might increase PrEP awareness and mitigate disparities in use."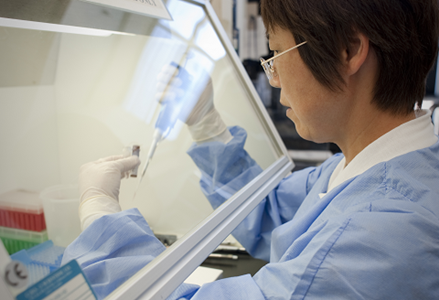 HIV Vaccine Research
NIAID: Experimental mRNA HIV Vaccine Shows Promise in Animal Studies
An experimental HIV vaccine based on messenger RNA (mRNA) – the same technology used in two highly effective COVID-19 vaccines – has shown promise in studies involving mice and non-human primates, according to researchers at the National Institute of Allergy and Infectious Diseases (NIAID). These studies showed that the mRNA vaccine was safe and prompted desired antibody and cellular immune responses against an HIV-like virus. Rhesus macaques that received a priming vaccine followed by multiple booster inoculations had a 79% lower per-exposure risk of infection by simian-human immunodeficiency virus (SHIV) compared to unvaccinated animals.
The experimental HIV vaccine delivers coded instructions for making two key HIV proteins – Env and Gag. Muscle cells in inoculated animals assemble these two proteins to produce virus-like particles (VLPs) studded with many copies of the Env protein on their surface. These VLPs cannot cause HIV infection or disease because they lack the complete genetic code of HIV. However, they have the capacity to stimulate an immune response similar to that produced by whole, infectious HIV.
"Despite nearly four decades of effort by the global research community, an effective vaccine to prevent HIV remains an elusive goal," noted NIAID Director Dr. Anthony Fauci. "This experimental mRNA vaccine combines several features that may overcome shortcomings of other experimental HIV vaccines and thus represents a promising approach."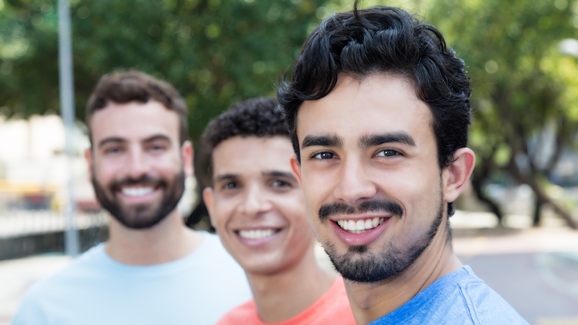 Affected Population Groups
Little Progress Made in Reducing HIV Infections Among Gay and Bisexual Men During the 2010s
Gay, bisexual, and other men who have sex with men (MSM) are disproportionately affected by HIV, accounting for about two-thirds of estimated new HIV infections in the U.S. during 2019. Despite efforts to address high HIV rates among MSM, little progress was made in reducing new HIV infections during the 2010s, according to a new Vital Signs report from CDC. For the study, CDC researchers analyzed surveillance data to identify trends in estimated new HIV infections and to assess measures of undiagnosed infection and HIV prevention and treatment services. These measures included rates of HIV testing, PrEP use, antiretroviral therapy (ART) adherence, and viral suppression, as well as HIV-related stigma.
The researchers found that the estimated number of new HIV infections among MSM decreased just 8% between 2010 and 2019, from 25,100 to 23,100. Although new HIV infections decreased substantially (32%) among White MSM, they remained nearly unchanged among Black or African American MSM and increased about 16% among Hispanic/Latino MSM during the period. New HIV infections declined by about 45% among gay and bisexual adolescents and youths 13 to 24 years old, but rose nearly 50% among young MSM 25 to 34 years old.
"Use of many prevention and treatment strategies were less prevalent among Black MSM, Hispanic/Latino MSM, and younger MSM," according to CDC. "Longstanding inequities in access to and delivery of needed services among some racial/ethnic and age groups, particularly Black MSM and Hispanic/Latino MSM, have persisted despite focused efforts to prevent HIV in these populations for decades. Efforts to reduce these and other disparities must address their root causes, including systemic racism, stigma, discrimination, homophobia, poverty, homelessness, and unequal access to care and prevention services."



The U.S. HIV Epidemic
Recent Reports Shed Light on U.S. Progress Toward Ending the HIV Epidemic
In the past few weeks, CDC and the Health Resources and Services Administration (HRSA) have released three reports that summarize recent data and progress toward ending the U.S. HIV epidemic. For easy reference, we have provided brief summaries and links to each of these documents below.
Core Indicators for Monitoring the Ending the HIV Epidemic Initiative (Preliminary Data): National HIV Surveillance System Data Reported through September 2021; and Preexposure Prophylaxis (PrEP) Data Reported through June 2021 – This CDC report includes the latest available information on: U.S. HIV diagnoses; prompt linkage to HIV care after diagnosis; and PrEP prescriptions and coverage among persons with indications for PrEP. Breakdowns are provided by sex at birth, age, race/ethnicity, and area of residence.
Ending the HIV Epidemic in the U.S. Initiative: Data Report 2020 – This report from HRSA's HIV/AIDS Bureau (HAB) highlights the number of new and estimated re-engaged clients who received specific services and those who were prescribed ART during the 2020 calendar year. In FY 2020, the first year of the Ending the HIV Epidemic (EHE) initiative, HAB awarded a total of $63 million to 47 HAB EHE recipients, 2 technical assistance providers, and 11 RWHAP AIDS Education and Training Center recipients. HRSA estimated that these HAB EHE grant recipients would serve 18,000 new or re-engaged people with HIV during FY 2020.
Ryan White HIV/AIDS Program Annual Client-Level Data Report: 2020 – This is the seventh annual publication of national client-level data from the Ryan White HIV/AIDS Program (RWHAP) Services Report (RSR). The RSR is HRSA's primary source of annual, client-level data reported by more than 2,000 funded RWHAP grant recipients and subrecipients across the U.S. According to this report, clients receiving RWHAP-funded medical care had record high levels of viral suppression (89.4%) during 2020.

Funding Opportunities and Awards
Grant Opportunities and Awards for Harm Reduction and Housing
The Substance Abuse and Mental Health Services Administration (SAMHSA), HRSA, and the U.S. Department of Housing and Urban Development (HUD) recently announced the following funding opportunities and awards:
FY 2022 Harm Reduction Grant Program (SP-22-001) – This SAMHSA program will support a wide range of harm reduction activities to help address the nation's substance use and overdose epidemic. These include community-based overdose prevention programs, syringe services programs, and other harm reduction services. The following entities are eligible to apply: state, local, Tribal, and territorial government agencies; Tribal organizations; non-profit community-based organizations; and primary and behavioral health organizations. SAMHSA expects to award a total of $29.25 million to 25 organizations over a 3-year period. Eligible organizations may seek up to $400,000 per award per year. The application deadline is February 7. 2022.
Supporting Replication (SURE) of Housing Interventions in the Ryan White HIV/AIDS Program: Implementation and Technical Assistance Provider (HRSA-22-031) – A single organization will be funded to provide technical assistance to up to 10 sites that will implement and adapt housing-related intervention strategies for three key populations of people with HIV: 1) lesbian, gay, bisexual, transgender, and queer or questioning (LGBTQ+) people; 2) youth and young adults (ages 13 to 24); and 3) people impacted by the justice system. HRSA expects to make one award of $3.5 million. The application deadline is February 23, 2022.
Supporting Replication (SURE) of Housing Interventions in the Ryan White HIV/AIDS Program – Evaluation Provider (HRSA-22-032) – A single organization will be funded to serve as an evaluation provider and use an implementation science framework to evaluate housing-related intervention strategies for the same key population groups listed above in funding opportunity HRSA-22-031. RSA plans to make a single award of $800,000. The application deadline is February 23, 2022.
HOPWA Grant Awards – On December 1, HUD's Office of HIV/AIDS Housing announced $41 million in Housing Opportunities for Persons With AIDS (HOPWA) competitive grant awards to 20 local governments and non-profit organizations through the HOPWA: Housing as an Intervention to Fight AIDS funding opportunity. The HOPWA grant recipients will receive a one-time, non-renewable grant to fund housing assistance and supportive services for eligible beneficiaries, coordination and planning activities, and grants management and administration. Summaries of the funded projects are available here.



World AIDS Day 2021
Recap of World AIDS Day Commemorations
In the run-up to the 34th annual World AIDS Day, The White House issued a proclamation commemorating the day, as well as the 40th anniversary of the HIV/AIDS epidemic last June. "For decades, World AIDS Day has been recognized as an opportunity for people around the world to stand together in the fight against HIV," according to the proclamation. "This year on World AIDS Day, we are focused on addressing health inequities and inequalities and ensuring that the voices of people with HIV are at the center of our work to end the HIV epidemic globally . . . Ending the HIV epidemic is within our reach, and we are committed to finishing this work. On World AIDS Day, we rededicate ourselves to building on the progress of the last 4 decades; upholding and advancing human rights; supporting research, science, and data-driven solutions; expanding access to housing, education, and economic empowerment; and fighting stigma and discrimination."
In addition to the proclamation, The White House released a fact sheet outlining the Administration's commitments and initiatives, domestically and globally, for ending the HIV/AIDS epidemic by 2030. Many U.S. federal agencies also issued proclamations and reflections marking the day. For your convenience, we have linked to many of these documents below:
Statements by HHS Leaders Commemorating World AIDS Day (U.S. Department of Health and Human Services – HHS)
HRSA Commemorates World AIDS Day (Diana Espinosa, HRSA)
December 1st Is World AIDS Day: Dear Colleague Letter (Dr. Demetre Daskalakis and Dr. Jonathan Mermin, CDC)
White House's Harold Phillips Discusses World AIDS Day & the National HIV/AIDS Strategy (video interview with Harold Phillips, White House Office of National AIDS Policy)
The Role of Research in the National HIV/AIDS Strategy (Maureen Goodenow, Office of AIDS Research)
SAMHSA Observes World AIDS Day with Renewed Commitment to Ending the HIV Epidemic (Kristin Roha, SAMHSA)
HHS Office for Civil Rights Commemorates World AIDS Day (Lisa Pino, HHS Office for Civil Rights)
This World AIDS Day, Finding Inspiration at the Intersection of HIV and Substance Use (Dr. Nora Volkow, National Institute on Drug Abuse)
33rd World AIDS Day: Remembering and Resetting, a Message from HUD (Rita Harcrow, U.S. Department of Housing and Urban Development)
Ending the HIV and AIDS Epidemic: Equitable Access, Everyone's Voice (Elizabeth Maguire, U.S. Department of Veterans Affairs)
Statement by Assistant Attorney General Kristen Clarke on World AIDS Day (Kristen Clarke, U.S. Department of Justice)
USAID Recognizes World AIDS Day (U.S. Agency for International Development)
Commemorating World AIDS Day (Antony Blinken, U.S. Department of State)

COVID-19 News
Recent Data Summaries and Research Reports
CDC's COVID Data Tracker Weekly Review highlights key data from its COVID Data Tracker, narrative interpretations of the data, and visualizations from the week. Themes of recent Weekly Review issues include: preventing COVID-19 during the holiday season; the importance of getting boosters; COVID-19 and pregnancy; and COVID-19 vaccination among children.
The Morbidity and Mortality Weekly Report (MMWR) is also providing continuing coverage of COVID-19-related research. CDC is archiving its MMWR reports on a page devoted to studies about COVID-19. For your convenience, we have compiled links to recent MMWR papers below, organized by topic:
Variants
SARS-CoV-2 B.1.1.529 (Omicron) Variant – United States, December 1-8, 2021

Vaccination and Vaccine Efficacy
Booster and Additional Primary Dose COVID-19 Vaccinations Among Adults Aged ≥65 Years – United States, August 13, 2021-November 19, 2021
Comparative Effectiveness and Antibody Responses to Moderna and Pfizer-BioNTech COVID-19 Vaccines among Hospitalized Veterans – Five Veterans Affairs Medical Centers, United States, February 1-September 30, 2021
The Advisory Committee on Immunization Practices' Interim Recommendation for Use of Pfizer-BioNTech COVID-19 Vaccine in Children Aged 5-11 Years – United States, November 2021
Testing and Diagnosis
Community-Based Testing Sites for SARS-CoV-2 – United States, March 2020-November 2021
Automated Digital Notification of COVID-19 Diagnoses Through Text and Email Messaging – North Carolina, December 2020-January 2021
Direct and Indirect Health Outcomes of COVID-19
COVID-19-Associated Deaths After SARS-CoV-2 Infection During Pregnancy – Mississippi, March 1, 2020-October 6, 2021
Incidence of SARS-CoV-2 Infection, Emergency Department Visits, and Hospitalizations Because of COVID-19 Among Persons Aged ≥12 Years, by COVID-19 Vaccination Status – Oregon and Washington, July 4-September 25, 2021
Impact of Hospital Strain on Excess Deaths During the COVID-19 Pandemic – United States, July 2020-July 2021
Risk for Stillbirth Among Women With and Without COVID-19 at Delivery Hospitalization – United States, March 2020-September 2021
Notes from the Field: COVID-19-Associated Mucormycosis – Arkansas, July-September 2021
Notes from the Field: Mucormycosis Cases During the COVID-19 Pandemic – Honduras, May-September 2021
Health Care Access and Use Among Adults with Diabetes During the COVID-19 Pandemic – United States, February-March 2021
Symptoms of Depression, Anxiety, Post-Traumatic Stress Disorder, and Suicidal Ideation Among State, Tribal, Local, and Territorial Public Health Workers During the COVID-19 Pandemic – United States, March-April 2021
Influenza Vaccinations During the COVID-19 Pandemic – 11 U.S. Jurisdictions, September-December 2020