In Brief: November 4, 2021
Inside This Issue: First COVID vaccine recommended for young children; updated vaccine booster guidance; immunity after COVID vaccination and infection; HIV treatment interruption; HRSA funding opportunities for primary care HIV prevention & HIV and aging; and more.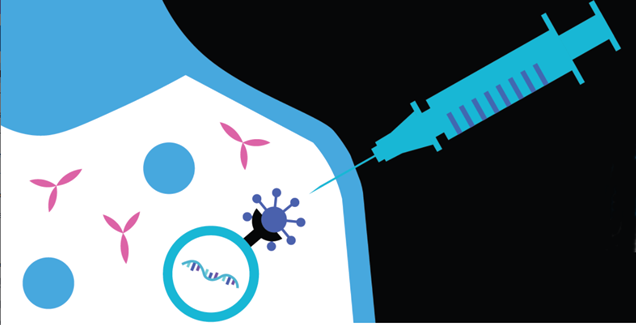 COVID-19 Vaccine News
Pfizer-BioNTech COVID-19 Vaccine Becomes First Vaccine Recommended for Young Children
On November 2, CDC recommended the use of the Pfizer-BioNTech COVID-19 Vaccine for children from 5 to 11 years old (referred to hereafter as "young children"). The action follows the endorsement of this use by CDC's Advisory Committee on Immunization Practices (ACIP). It allows providers to begin vaccinating the approximately 28 million U.S. children in this age group as soon as possible.
The Pfizer-BioNTech vaccine for young children is administered as a two-dose primary series, 3 weeks apart, but is at one-third the dose (10 micrograms) used for older children and adults (30 micrograms). Research data indicate that the Pfizer-BioNTech vaccine is about 91% effective in preventing COVID-19 in young children. An ongoing study of about 3,100 young children has found no serious side effects from the vaccine.
In the U.S., COVID-19 cases in young children make up 39% of the total cases in persons younger than 18 years old. About 8,300 COVID-19 cases in young children have resulted in hospitalization. The spread of the Delta variant in the U.S. resulted in a surge of COVID-19 cases in children throughout the summer, according to CDC. During the 6-week period from late June to mid-August, COVID-19 hospitalizations among children and adolescents increased fivefold. As of October 17, a total of 146 COVID-19 deaths had been reported in the U.S. among young children.
"Together, with science leading the charge, we have taken another important step forward in our nation's fight against the virus that causes COVID-19," notes CDC Director Dr. Rochelle Walensky. "As a mom, I encourage parents with questions to talk to their pediatrician, school nurse, or local pharmacist to learn more about the vaccine and the importance of getting their children vaccinated."

Expanded Eligibility for COVID-19 Vaccine Boosters, Including Use of Different Products
CDC has also endorsed the ACIP recommendations to expand the use of COVID-19 booster shots in specific population groups. In particular, among those who have received a Pfizer-BioNTech or Moderna COVID-19 vaccine, the following groups are eligible for a booster shot 6 months or more after their initial series:
age 65 years and older

age 18+ who live in long-term care settings

age 18+ who have underlying medical conditions

age 18+ who work or live in high-risk settings

In addition, for the nearly 15 million people who received the single-dose Johnson & Johnson COVID-19 vaccine, booster shots are also recommended for those who are 18 and older and who were vaccinated two or more months ago.
CDC's guidance now also allows eligible persons to choose which vaccine they receive as a booster dose. "Some people may have a preference for the vaccine type that they originally received, and others may prefer to get a different booster," according to an October 21 CDC statement on the updated guidance. "CDC's recommendations now allow for this type of mix and match dosing for booster shots. Millions of people are newly eligible to receive a booster shot and will benefit from additional protection. However, today's action should not distract from the critical work of ensuring that unvaccinated people take the first step and get an initial COVID-19 vaccine. More than 65 million Americans remain unvaccinated, leaving themselves – and their children, families, loved ones, and communities – vulnerable."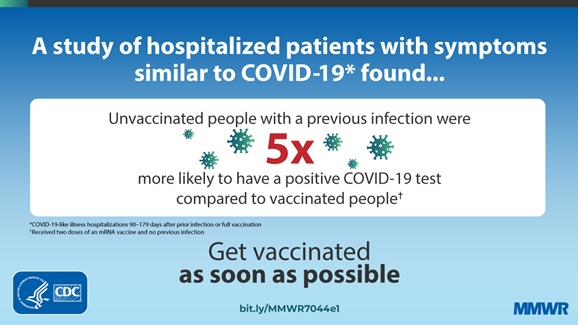 CDC: Vaccine-Induced Immunity "More Consistent" Than That from Infection
Late last month, CDC also released a science brief that provides an overview of the current scientific evidence concerning the level of immunity induced by COVID-19 vaccines and the immunity induced by SARS-CoV-2 infection. The 16-page brief is based on a review of both peer-reviewed and preprint publications, as well as unpublished CDC data.
Key findings (directly quoted from the brief's text) include the following:
Available evidence shows that fully vaccinated individuals and those previously infected with SARS-CoV-2 each have a low risk of subsequent infection for at least 6 months. Data are presently insufficient to determine an antibody titer threshold that indicates when an individual is protected from infection.

The immunity provided by vaccine and prior infection are both high but not complete (i.e., not 100%).

Multiple studies have shown that antibody titers correlate with protection at a population level, but protective titers at the individual level remain unknown.

Whereas there is a wide range in antibody titers in response to infection with SARS-CoV-2, completion of a primary vaccine series, especially with mRNA vaccines, typically leads to a more consistent and higher-titer initial antibody response.

For certain populations, such as the elderly and immunocompromised, the levels of protection may be decreased following both vaccination and infection.

Current evidence indicates that the level of protection may not be the same for all viral variants.

Substantial immunologic evidence and a growing body of epidemiologic evidence indicate that vaccination after infection significantly enhances protection and further reduces risk of reinfection, which lays the foundation for CDC recommendations [that people be vaccinated even if they have already been infected with SARS-CoV-2].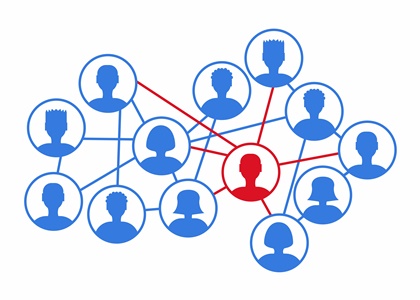 The U.S. HIV Epidemic
Summaries of Recent CDC Reports and Resource Updates
In the past several weeks, CDC has published several reports and updated other resources focusing on different aspects of the U.S. HIV epidemic. Since these are too numerous to cover in depth, we are providing brief summaries and links below:
HIV Cluster and Outbreak Detection and Response and Cluster Detection and Response Community Spotlights: Stories from the Field – These CDC web pages on HIV case clusters have been recently updated. The HIV cluster and outbreak main page includes information about the benefits of HIV cluster detection and response, identifying HIV clusters, responding to HIV clusters, and CDC's role in HIV cluster detection and response. The "Stories from the Field" page examines HIV cluster detection and response efforts across the U.S., and highlights a range of cluster detection tools, cultural contexts, and community benefits. It includes brief reports on HIV clusters and response efforts in Lawrence and Lowell, Massachusetts; Minneapolis, Minnesota; and San Antonio, Texas.
HIV Infection and HIV-Associated Behaviors Among Persons Who Inject Drugs – 23 Metropolitan Statistical Areas, United States, 2018 – This report from the Morbidity and Mortality Weekly Report notes that the estimated HIV prevalence among persons who inject drugs (PWID) remained unchanged between 2015 and 2018. Although the overall level of syringe service program (SSP) use did not significantly change during that period, there was a substantial decrease in SSP use (51% to 40%) among Black PWID. The CDC researchers conclude, "Low-barrier access is needed to comprehensive and integrated needs-based syringe service programs (where legally permissible) that include provision of sterile syringes and safe syringe disposal, HIV and hepatitis C virus testing and referrals for treatment, HIV preexposure prophylaxis, and treatment for substance use and mental health disorders for PWID."
Core Indicators for Monitoring the Ending the HIV Epidemic initiative (Preliminary Data): National HIV Surveillance System Data Reported Through June 2021; and Preexposure Prophylaxis (PrEP) Data Reported Through March 2021 – This 28-page consists primarily of a series of HIV surveillance tables with data on three of the six core EHE indicators for tracking progress toward ending the U.S. HIV epidemic. It includes preliminary data on new HIV diagnoses and prompt linkage to HIV medical care for the year 2020 and for January through June 2021. Also included is preliminary data on PrEP coverage – the estimated percentage of individuals with indications for PrEP who have been prescribed PrEP – for the years 2019, 2020, and January-March 2021.
Delivery of Partner Services in the United States, 2019 – This report summarizes partner services delivery to the 49,398 index patients who were reported across all U.S. HIV Partner Services programs. The 31,298 patients who were interviewed named a total of 23,723 sex and/or needle-sharing partners. Of the 6,295 partners tested with a documented HIV test result, 19% were newly identified as HIV-positive and 72% were linked to care. Of the 3,053 who were HIV-negative, 1,819 had a reported PrEP status and 12% were taking PrEP. Of the 1,476 partners not taking PrEP with a reported referral status, 33% were referred to PrEP care.




Search for an HIV Cure
Case Reports: HIV Control After Stopping ART
In a recent paper in Nature Medicine, researchers from the National Institute of Allergy and Infectious Diseases (NIAID) identified two distinct ways that people can control HIV after stopping antiretroviral therapy (ART) under medical supervision. They closely monitored the health of two adult men with HIV who began ART soon after being infected with the virus, successfully suppressed viral replication, and continued on treatment for more than 6 years. These two men then joined an HIV clinical trial and stopped ART under medical supervision. The research team then followed one man for 4 years and the other man for more than 5 years, with study visits about every 2 to 3 weeks.
During the follow-up period off ART, one of the men suppressed HIV with intermittent rebounds for nearly 3.5 years, at which point he began taking suboptimal ART without telling the research team. The other man almost completely suppressed HIV for nearly 4 years, but then experienced a dramatic HIV viral rebound because he had become infected with a different HIV strain (HIV superinfection).
The researchers found that the first man had high levels of HIV-specific CD8+ cells that can kill virus-infected cells. In contrast, the second man had a weaker CD8+ cell response against HIV, but had a very strong neutralizing antibody response throughout the follow-up period until his sudden viral rebound. These findings that two different mechanisms may lead to extended HIV viral control could help researchers develop treatment strategies that put HIV infection into remission without requiring lifelong ART.



Funding Opportunities
Primary Care HIV Prevention Opportunity from HRSA
The Health Resources and Services Administration (HRSA) recently released its "Ending the HIV Epidemic – Primary Care HIV Prevention" (PCHP) funding opportunity for FY2022 (HRSA-22-104). HRSA will award a total of about $50 million to as many as 150 health centers located in the targeted geographic locations where a majority of new HIV infections occur, as identified by the Ending the HIV Epidemic in the U.S. (EHE) initiative. This year's PCHP funding will support the expansion of HIV prevention services that decrease the risk of HIV transmission in underserved communities, focusing on supporting access to and use of PrEP. HRSA-funded health centers with service delivery sites in the targeted geographic locations that did not receive FY 2020 PCHP or FY 2021 PCHP funding are eligible to apply. A list of eligible health centers is available here. PCHP applications require a two-phase submission process. The Phase 1 submission to Grants.gov is due on December 14, 2021, and the Phase 2 submission to HRSA's Electronic Handbooks is due on January 18, 2022.


HIV and Aging Opportunities from HRSA
In late October, HRSA's HIV/AIDS Bureau (HAB) also released three notices of funding opportunities (NOFOs) focusing HIV and aging:
HRSA-22-027 – "Emerging Strategies to Improve Health Outcomes for People Aging with HIV: Capacity Building Provider." HRSA expects to award $750,000 to one recipient. There is a pre-application webinar on November 15.
HRSA-22-028 – "Emerging Strategies to Improve Health Outcomes for People Aging with HIV: Demonstration Sites." HRSA expects to award a total of $3 million to 10 recipients. There is a pre-application webinar on November 16.
HRSA-22-029 – "Emerging Strategies to Improve Health Outcomes for People Aging with HIV: Evaluation Provider." HRSA expects to award $750,000 to one recipient. There is a pre-application webinar on November 17.

The funded organizations will identify, refine, evaluate, and disseminate emerging strategies to comprehensively screen and manage comorbidities, geriatric conditions, behavioral health, and psychosocial concerns of people 50 years and older with HIV within the context of the Ryan White HIV/AIDS Program. Applications for these three HIV and aging NOFOs are all due January 25, 2022.


Educational Resources
Three HIV Medication Updates on AETC ShareSpot Blog
In a series of posts on the AETC National Coordinating Resource Center ShareSpot blog, Dr. Susa Coffey provided updates on three HIV antiretroviral medications (ARVs) or combinations:
Lenacapavir – an investigational, long-acting ARV that is administered every six months by a monthly injection;
Cabotegravir + Rilpivirine – a long-acting therapy that is administered through a monthly injection; and
Dolutegravir/Lamivudine (DTG/3TC) – in particular, the safety and efficacy of switching to DTG/3TC after achieving viral suppression on a three-drug ARV regimen.
Each blog item describes recent research on the ARVs and combinations, and includes a succinct "clinical bottom line" summarizing implications for HIV treatment.


New and Updated Fact Sheets from HRSA and CDC
HRSA and CDC recently published three new and updated fact sheets:
HIV and Hispanic/Latino People (CDC) – This includes breakdowns of HIV diagnoses among Hispanic/Latino people by gender and transmission category, as well as trends in new HIV diagnoses by age and gender during the period from 2015 through 2019. CDC also presents data on HIV prevalence and the HIV care continuum for Hispanic/Latino people, the prevention challenges they face, and steps CDC is taking to address these challenges.
HIV and Hispanic/Latino Gay and Bisexual Men (CDC) – This focuses specifically on HIV among Hispanic/Latino gay and bisexual men – one of the groups most heavily impacted by HIV in the U.S. As in the HIV and Hispanic/Latino People fact sheet described above, data are provided on new HIV diagnoses and prevalence, the HIV care continuum, prevention challenges, and steps CDC is taking.
HRSA's Ryan White HIV/AIDS Program: HIV Care and Treatment in Rural Communities – This new fact sheet provides an overview of the reach and impact of the Ryan White HIV/AIDS Program (RWHAP) in rural areas. During 2019, about 8% of RWHAP providers and 10% of RWHAP outpatient medical care providers were located in rural areas. Of the nearly 568,000 clients served by the RWHAP in 2019, 3.3% received services from providers located in rural areas. Nearly 90% were virally suppressed, 58% were in racial/ethnic minority groups, 57% lived at or below the poverty level, and nearly half (49%) were 50 or more years old.

Other COVID-19 News
Recent Data Summaries and Research Reports
CDC's COVID Data Tracker Weekly Review highlights key data from its COVID Data Tracker, narrative interpretations of the data, and visualizations from the week. This online newsletter also summarizes important trends in the pandemic and brings together CDC data and reporting in a centralized location. The themes for the four most recent Weekly Review issues were: Give Me a Boost!; Prevention Is the Best Defense; Healthy Futures [COVID-19 in children]; and Health Equity and Disability.
CDC's Morbidity and Mortality Weekly Report (MMWR) is also providing continuing coverage of COVID-19-related research. CDC is archiving the MMWR reports on a page devoted to studies about COVID-19. For your convenience, we have compiled links to recent MMWR papers below:
The Advisory Committee on Immunization Practices' Interim Recommendations for Additional Primary and Booster Doses of COVID-19 Vaccines – United States, 2021
Effectiveness of 2-Dose Vaccination with mRNA COVID-19 Vaccines Against COVID-19-Associated Hospitalizations Among Immunocompromised Adults – Nine States, January-September 2021
Laboratory-Confirmed COVID-19 Among Adults Hospitalized with COVID-19-Like Illness with Infection-Induced or mRNA Vaccine-Induced SARS-CoV-2 Immunity – Nine States, January-September 2021
Severity of Disease Among Adults Hospitalized with Laboratory-Confirmed COVID-19 Before and During the Period of SARS-CoV-2 B.1.617.2 (Delta) Predominance – COVID-NET, 14 States, January-August 2021
COVID-19 Vaccination and Non-COVID-19 Mortality Risk – Seven Integrated Health Care Organizations, United States, December 14, 2020-July 31, 2021
Effectiveness of Pfizer-BioNTech mRNA Vaccination Against COVID-19 Hospitalization Among Persons Aged 12-18 Years – United States, June-September 2021
Distribution of SARS-CoV-2 Variants in a Large Integrated Health Care System – California, March-July 2021
National and State Trends in Anxiety and Depression Severity Scores Among Adults During the COVID-19 Pandemic – United States, 2020-2021