In Brief: September 7, 2021
Inside This Issue: FDA approves first COVID-19 vaccine, news on vaccine booster shots, investments in HIV cure research, #ShesWell Initiative Focuses on Raising PrEP Awareness, HIV in the South, and latest COVID research reports.




COVID-19 Vaccination
FDA Approves First COVID-19 Vaccine
On August 23, the U.S. Food and Drug Administration (FDA) approved the Pfizer-BioNTech COVID-19 Vaccine for the prevention of COVID-19 in persons aged 16 and older. The vaccine, which is the first to gain FDA approval, will be marketed under the name Comirnaty. FDA initially granted emergency use authorization (EUA) for the Pfizer-BioNTech vaccine in December 2020. The vaccine will continue to be available under the EUA, including for adolescents 12 to 15 years old, and for the administration of a third dose in some immunocompromised persons.
"The FDA's approval of this vaccine is a milestone as we continue to battle the COVID-19 pandemic. While this and other vaccines have met the FDA's rigorous, scientific standards for emergency use authorization, as the first FDA-approved COVID-19 vaccine, the public can be very confident that this vaccine meets the high standards for safety, effectiveness, and manufacturing quality the FDA requires of an approved product," noted Dr. Janet Woodcock, FDA's acting commissioner. "While millions of people have already safely received COVID-19 vaccines, we recognize that for some, the FDA approval of a vaccine may now instill additional confidence to get vaccinated."
In its review of the Pfizer-BioNTech vaccine for approval, the FDA analyzed effectiveness data from about 20,000 vaccine and 20,000 placebo recipients aged 16 years or older who did not have evidence of the COVID-19 virus infection within a week of receiving the second dose. The safety of Comirnaty was evaluated in approximately 22,000 people who received the vaccine and 22,000 people who received a placebo. The clinical trial indicated that the vaccine was 91% effective in preventing COVID-19 disease.


Vaccine Booster Shots May Be Available Later This Month
In a recent joint statement, the nation's top public health officials and medical experts announced that COVID-19 booster shots may be available in the U.S. as early as September 20. "The COVID-19 vaccines authorized in the United States continue to be remarkably effective in reducing risk of severe disease, hospitalization, and death, even against the widely circulating Delta variant," according to the statement. However, "The available data make very clear that protection against SARS-CoV-2 infection begins to decrease over time following the initial doses of vaccination, and in association with the dominance of the Delta variant, we are starting to see evidence of reduced protection against mild and moderate disease."
"We have developed a plan to begin offering these booster shots this fall subject to FDA conducting an independent evaluation and determination of the safety and effectiveness of a third dose of the Pfizer and Moderna mRNA vaccines and CDC's Advisory Committee on Immunization Practices (ACIP) issuing booster dose recommendations based on a thorough review of the evidence," the statement continues. "We are prepared to offer booster shots for all Americans beginning the week of September 20 and starting 8 months after an individual's second dose. At that time, the individuals who were fully vaccinated earliest in the vaccination rollout, including many health care providers, nursing home residents, and other seniors, will likely be eligible for a booster."


CMS Issues Guidance to Help Ensure Access to a Third Vaccine Dose for Immunocompromised Persons
In response to FDA's recent authorization of a third dose of COVID-19 vaccine for immunocompromised individuals, the Centers for Medicare & Medicaid Services (CMS) is assuring people who qualify for this additional dose that they will be able to receive it for free. This includes those enrolled in Medicaid, the Children's Health Insurance Program (CHIP), and most group health plans and health insurance coverage. Immunocompromised persons eligible for a third dose include people with advanced or untreated HIV infection.
According to CMS, this action is part of the Administration's commitment to ensure that consumers have access to the vaccinations needed to protect themselves and others from COVID-19, without incurring additional costs. CMS has released guidance about billing and coding for the additional dose of COVID-19 vaccines for certain immunocompromised Medicare patients. The agency is also providing information and resources to states about Medicaid coverage of COVID-19 vaccine administration with no cost sharing for enrollees who are immunocompromised.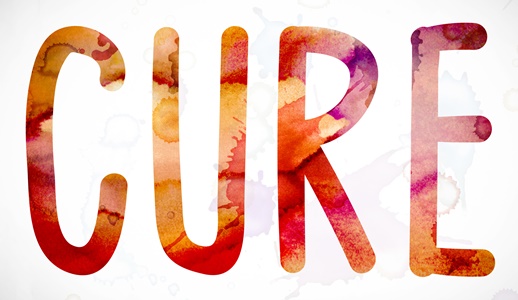 Search for an HIV Cure
New NIH Investments in HIV Cure Research
As part of its ongoing effort to support research toward an HIV cure, the National Institutes of Health (NIH) recently awarded about $53 million in annual funding over the next five years to 10 research organizations in the the Martin Delaney Collaboratories for HIV Cure Research program.
"June marked the 40th anniversary of the first reported U.S. cases of what would later be recognized as HIV/AIDS," noted Dr. Anthony Fauci, director of NIH's National Institute of Allergy and Infectious Diseases. "Remarkable progress has been made in the areas of HIV treatment and prevention since that time. However, we must continue to press for a cure."
According to NIH, the new awards will focus on three key areas: basic research on HIV reservoirs and/or post-treatment control; strategies for durable control of viral rebound; and approaches for reducing, eradicating, or inactivating latent virus. In addition, a new pediatric award will fund the development of assays, tools, and imaging modalities specifically for HIV cure studies in infants and children.

Pre-Exposure Prophylaxis
#ShesWell Initiative Focuses on Raising PrEP Awareness Among Women
As part of its Let's Stop HIV Together Campaign, CDC recently launched the #ShesWell initiative with the goals of increasing awareness of pre-exposure prophylaxis (PrEP) among women and building the capacity of healthcare providers to prescribe PrEP to women who may benefit from it. The first locations chosen for the #ShesWell initiative are four Ending the HIV Epidemic (EHE) jurisdictions: Tampa/St. Petersburg, Florida; Orlando, Florida; Fort Worth, Texas; and Columbus, Ohio.
Educational resources developed for the initiative aim to educate women about the benefits of PrEP, encourage them to seek more information, and talk with their healthcare providers to decide whether PrEP is right for them. Education and outreach efforts include both organic and paid social media efforts, as well as ads on dating apps, digital web banners, digital radio, and video streams. #ShesWell also will engage clinicians through provider publications and professional organization email listservs, distribution of an updated CDC PrEP resource kit to clinics, promotion of digital advertisements for clinician offices and waiting rooms, and social media advertising.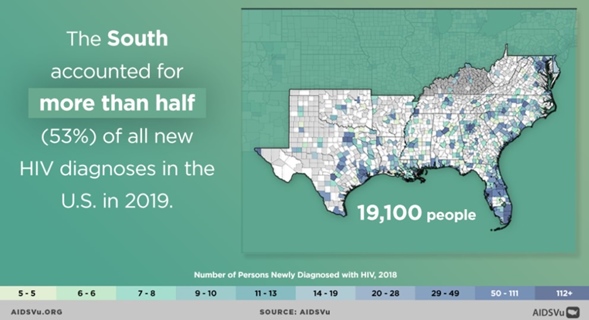 HIV in the United States
AIDSVu Summarizes HIV Data and Trends for the South
The states in the U.S. South are disproportionately affected by HIV, especially in communities of color. Although Black Americans comprise about one-fifth (19%) of the South's total population, they accounted for about half of all new diagnoses in the region during 2019. The uptake of PrEP also lags behind the rest of the U.S. – an indication of missed opportunities for HIV prevention. To mark Southern HIV/AIDS Awareness Day in late August, AIDSVu published a blog item focusing on HIV-related stigma and its role in health outcomes in the South, as well as 22 infographics summarizing the latest HIV data and trends in that region. For your convenience, we have linked to selected infographics below:

Other COVID-19 News
Latest Reports from MMWR
CDC's Morbidity and Mortality Weekly Report (MMWR) is continuing to provide extensive coverage of COVID-19-related research. The reports are aggregated on a page devoted to studies about COVID-19, and summarized in a weekly podcast. For your convenience, we have listed and linked to recently published MMWR papers on COVID-19 below:
Vaccine Effectiveness
Vaccination Coverage

COVID-19 Screening/Testing
COVID-19 Outbreaks and Epidemiology
Direct and Indirect Health Effects