In Brief: March 9, 2021
Inside This Issue: New CDC guidance for fully vaccinated persons; FDA authorizes third COVID-19 vaccine; "HIV in the USA" series; HRSA awards for HIV work; UNAIDS urges action to end inequalities; and other COVID-19 news.

New CDC COVID-19 Guidance
CDC Issues Interim Guidance for Fully Vaccinated Persons
On March 8, the U.S. Centers for Disease Control and Prevention (CDC) issued Interim Public Health Recommendations for Fully Vaccinated People. For the purposes of the CDC guidance, people are considered "fully vaccinated" for COVID-19 at least 2 weeks after they have received either: 1) the second dose in a two-dose vaccination series with the Pfizer-BioNTech or Moderna vaccines; or 2) the single-dose Janssen vaccine (described in detail in the news item immediately after this one).
According to CDC, fully vaccinated people in non-healthcare settings can:
visit with other fully vaccinated people indoors without wearing masks or physical distancing;

visit with unvaccinated people from a single household who are at low risk for severe COVID-19 disease indoors without wearing masks or physical distancing; and

refrain from quarantine and testing following a known exposure if asymptomatic.

For now, CDC recommends that fully vaccinated people should continue to:
take precautions in public like wearing a well-fitted mask and physical distancing;

wear masks, practice physical distancing, and adhere to other prevention measures when visiting with unvaccinated people who are at increased risk for severe COVID-19 disease or who have an unvaccinated household member who is at increased risk for severe COVID-19 disease;

wear masks, maintain physical distance, and practice other prevention measures when visiting with unvaccinated people from multiple households;

avoid medium- and large-sized in-person gatherings;

get tested if experiencing COVID-19 symptoms;

follow guidance issued by individual employers; and

follow CDC and health department travel requirements and recommendations.

CDC emphasizes that people who have received a COVID-19 vaccine but do not yet meet the above criteria for being "fully vaccinated" are NOT fully protected and should, in the interim, continue to follow all recommended prevention steps for unvaccinated persons.
"This is the first set of public health recommendations for fully vaccinated people," according to CDC. "This guidance will be updated and expanded based on the level of community spread of SARS-CoV-2, the proportion of the population that is fully vaccinated, and the rapidly evolving science on COVID-19 vaccines." In addition to its official interim recommendations, CDC has also produced a plain-language summary for the general public, as well as a science brief that summarizes the rationale and evidence supporting these recommendations.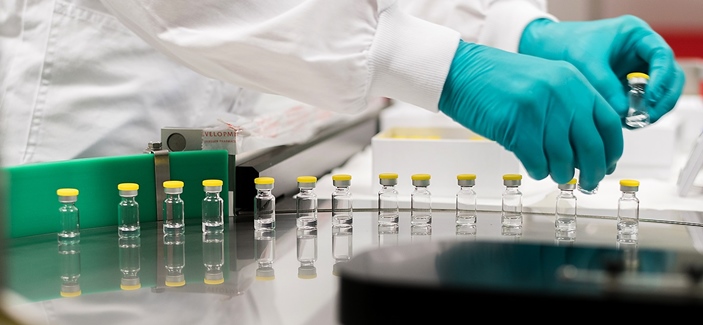 COVID-19 Vaccines
FDA Grants Emergency Use Authorization for Third COVID-19 Vaccine
On February 27, the U.S. Food and Drug Administration (FDA) issued its third emergency use authorization (EUA) for a vaccine to prevent COVID-19 – the disease caused by the SARS-CoV-2 virus. The EUA allows the Janssen COVID-19 Vaccine to be distributed across the U.S. for use in person 18 years and older. Compared to the two COVID-19 vaccines previously granted EUAs – Pfizer-BioNTech and Moderna – the Janssen vaccine requires just one shot and is easier to store (requiring only normal refrigerator temperature). These characteristics are expected to make the Janssen vaccine easier to distribute and administer. A recent FDA analysis also showed that the Janssen vaccine may reduce the spread of the virus by vaccinated people.
Unlike the two earlier vaccines, which use an mRNA technology to stimulate an immune response to SARS-CoV-2, the Janssen vaccine uses an adenovirus – a type of virus that causes the common cold – that has been inactivated to carry a gene from the coronavirus into human cells. The cells then produce coronavirus proteins (not the virus itself) to mimic the virus, which helps prime the immune system to fight off infection if a vaccinated person is later exposed to SARS-CoV-2.
"The Janssen COVID-19 vaccine is a very welcome addition to the arsenal of COVID-19 vaccines and other prevention strategies, noted Dr. Anthony Fauci, director of the National Institute of Allergy and Infectious Disease. "When tested among 45,000 volunteers, the single-injection vaccine proved 77% effective in preventing severe/critical COVID-19 occurring at least 14 days after vaccination and 85% effective in preventing severe/critical COVID-19 occurring at least 28 days after vaccination . . . Importantly, the vaccine was 100% effective in protecting against death from the disease everywhere it was tested."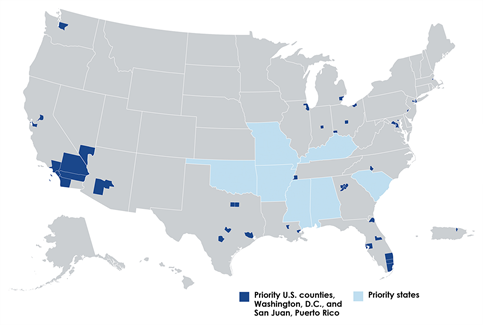 The U.S. HIV Epidemic
"HIV in the USA" Series Focuses on Challenges to Ending the Epidemic
The Lancet medical journal recently published "HIV in the USA" – a series of research papers and commentaries that surveys the ongoing challenges to ending the U.S. HIV epidemic. The series executive summary notes that, "The USA continues to lag behind other G-7 nations when it comes to controlling its HIV epidemic and is the only high-income country among the top 10 countries most affected by HIV." The summary also highlights that the majority of HIV infections are now concentrated in the South and in rural areas, where women and minorities are disproportionately affected, and where similar disparities have emerged during the COVID-19 pandemic.
Summaries for each of the series papers and commentaries are available for free to nonsubscribers:
The series was funded in part by the National Institute on Drug Abuse (NIDA), the Centers for AIDS Research, and the National Institute of Allergy and Infectious Diseases. "Scientific advances have transformed the course of HIV in individuals. To transform the course of the epidemic, we need to expand care and prevention strategically to those who need it most," noted Dr. Nora Volkow, director of NIDA. "That means taking a hard look at who has been excluded from services and taking immediate steps to overcome systemic barriers like stigma, structural racism, and other forms of discrimination to connect hardly reached people – such as individuals with substance use disorders – with HIV testing, prevention, and treatment."

Funding Awards
HRSA Awards Nearly $100 Million for HIV Care, Treatment, and Support Services
Earlier this month, the Health Resources and Services Administration (HRSA) announced the award of approximately $99 million through the Ryan White HIV/AIDS Program (RWHAP) to link people with HIV to essential HIV care and treatment and support services, as well as to provide workforce training and technical assistance. This investment is an important component of the Ending the HIV Epidemic (EHE) initiative, which has the goal of reducing the number of new U.S. HIV infections 90% by 2030. The awards include:
Over $87 million to 39 metropolitan areas and eight states that are RWHAP Parts A and B jurisdictions, to enable recipients to implement strategies, interventions, approaches, and core medical and support services to reduce new HIV infections in the U.S.;

$3 million to 12 RWHAP Part F AIDS Education and Training Centers Program recipients to provide workforce capacity development and technical assistance to the identified jurisdictions; and

$8 million to two organizations to provide technical assistance and systems coordination services to the 47 RWHAP Parts A and B jurisdictions, which received year two funding.


"For three decades, HRSA's RWHAP has been a leader in the federal effort to end the HIV epidemic in the U.S.," noted HRSA acting administrator Diana Espinosa. "Today's investment builds on the more than $2 billion in grants awarded through the RWHAP in fiscal year 2020, which helps to continue the program's incredible track record of viral suppression that saves lives, reduces health disparities and slows the spread of the virus."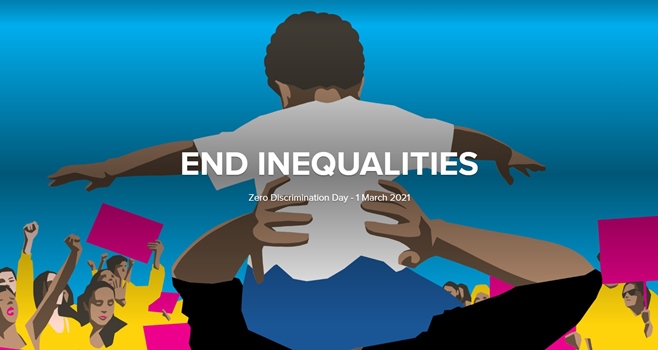 Discrimination and Stigma
UNAIDS Urges Action to End Inequalities on Zero Discrimination Day 2021
On March 1, UNAIDS and other international organizations observed the 8th annual Zero Discrimination Day (ZDD). This year, UNAIDS is highlighting the urgent need for action to end the persistent global inequalities surrounding income, sex, age, health status, occupation, disability, sexual orientation, drug use, gender identity, race, class, ethnicity, and religion. "Decades of experience and evidence from the HIV response shows that intersecting inequalities are preventing progress to ending AIDS as a public health threat by 2030," according to UNAIDS.
UNAIDS's ZDD web page includes a message from the organization's executive direction Winnie Byanyima, as well as downloadable educational posters, infographics, streaming videos, and a ZDD campaign brochure listing a series of steps that individuals, civil organizations, governments, partners, and donor organizations can take to challenge inequalities.
"Confronting inequalities and ending discrimination is critical to ending AIDS. The world is off track from delivering on the shared commitment to end AIDS by 2030 not because of a lack of knowledge, capability, or means to beat AIDS, but because of structural inequalities that obstruct proven solutions in HIV prevention and treatment," noted UNAIDS's Byanyima. "As well as being core to ending AIDS, tackling inequality will also advance the human rights of people who are living with HIV, make societies better prepared to beat COVID-19 and other pandemics, and support economic recovery and stability."
DOJ Reaches Agreement with Nevada to End Discriminatory Policies Against Inmates with HIV
Last month, the U.S. Department of Justice (DOJ) reached a settlement agreement with the state of Nevada to ensure that inmates with HIV are not illegally segregated or otherwise discriminated against on the basis of their HIV status. The agreement resolves DOJ's findings that the Nevada Department of Corrections (NDOC) violated Title II of the Americans with Disabilities Act (ADA) by unjustifiably isolating and segregating inmates with HIV, failing to keep their HIV status confidential, and denying them equal employment opportunities, including in food service positions.
DOJ found that NDOC's HIV housing policy stigmatized inmates with HIV and had the effect of indiscriminately disclosing their confidential HIV status to NDOC employees and inmates. Since leading public health and correctional authorities oppose the routine segregation of inmates with HIV as medically unnecessary, DOJ determined that NDOC's policy had no legitimate health justification. In the wake of these findings, NDOC has taken steps to desegregate inmates with HIV.
"The routine segregation of inmates with HIV is unnecessary, stigmatizing, and harmful, and the DOJ will enforce the ADA to stop such discrimination," noted Pamela Karlan, deputy assistance attorney general of DOJ's Civil Rights Division. "Compliance with the ADA ensures that prisoners with disabilities have equal access to educational, rehabilitative, and other programs and opportunities available to other inmates."

Access to Care and Services
Co-locating HIV Services Increases PrEP Access Among Women Who Inject Drugs
Although women accounted for nearly one in five (19%) of new U.S. HIV diagnoses in 2018, only 6% of all pre-exposure prophylaxis (PrEP) users were women. Researchers have been studying approaches to increase PrEP uptake among people at risk for HIV, including women who inject drugs (WWID). A new NIDA-funded study suggests that implementing PrEP distribution within a community-based syringe services program (SSP) helps WWID increase their PrEP uptake. SSPs are an important component of evidence-based harm reduction strategies, providing access to and disposal of sterile syringes and injection equipment, as well as linkages to support services.
In the study, a research team for Project Sexual Health Equity (Project SHE) prescribed up to 24 weeks of daily PrEP to 95 adult cisgender women through Prevention Point Philadelphia – the largest SSP in the mid-Atlantic. Participating women completed clinical assessments and surveys at weeks 1, 12, and 24 of the study. The women were required to use their own insurance to pay for PrEP. Although only about half of the women said they were aware of PrEP before the study, most (77.5%) decided at their first return visit to start PrEP. While many of those who took PrEP did not consistently achieve high enough adherence levels to ensure HIV prevention (at least 6 of 7 daily doses per week), this pilot project demonstrated that integrating syringe services with PrEP availability increased access to PREP. "Integrating PrEP with SSP services is feasible and acceptable for WWID," the researchers concluded. "This suggests that daily PrEP is a viable prevention tool for this vulnerable population."



Other COVID-19 News
Recent COVID-19 Recommendations and Reports from CDC
CDC is providing extensive coverage of COVID-19-related research in its Morbidity and Mortality Weekly Report (MMWR) and the agency's website. The MMWR resources are aggregated on a page devoted to studies about COVID-19, and summarized in a weekly podcast. For your convenience, we have grouped a selection of CDC's recently published reports on COVID-19 into several subtopics below.
Vaccination
Other COVID-19 Prevention and Mitigation Measures
Case Clusters and Outbreaks
SARS-CoV-2 Variants
Other Topics