In Brief: February 9, 2021
Inside This Issue: First monthly HIV treatment regimen, CDC report highlights HIV prevention priorities, PrEP access, program funding opportunities, Black Americans and HIV infographics, and COVID-19 updates.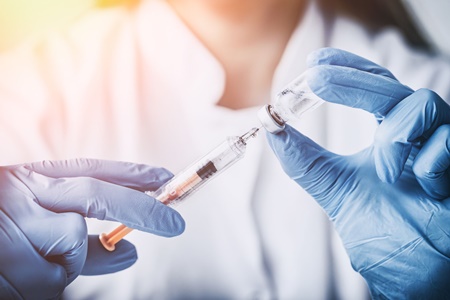 HIV Treatment
FDA Approves First Once-a-Month Treatment Regimen for HIV
Late last month, the U.S. Food and Drug Administration (FDA) approved Cabenuva – the first monthly, complete treatment regimen – for HIV-infected adults with suppressed virus who are currently on a stable HIV regimen. Cabenuva is an injectable, extended-release formulation of the integrase inhibitor cabotegravir and the non-nucleoside reverse transcriptase inhibitor rilpivirine. Also last month, FDA approved the tablet formulation of cabotegravir, which is marketed under the name Vocabria. According to FDA, persons prescribed the monthly Cabenuva treatment should first take a daily combination of Vocabria plus oral rilpivirine (trade name Edurant) for one month to ensure the medications are well-tolerated before switching to the injectable formulation.
In response to the approval, Dr. David Wohl, professor of medicine at the University of North Carolina's Institute of Global Health and Infectious Diseases called Cabenuva a "truly meaningful" innovation in HIV treatment. "Not only is it the first, complete long-acting regimen, which allows for a dramatic reduction in the frequency of dosing, but it also was preferred by most clinical trial participants when compared to their prior daily oral regimens."
However, some groups, including The Foundation for AIDS Research (amfAR), have expressed concerns about the regimen's cost, which is expected to be nearly $48,000 per year before discounts. "We're encouraged that many people with HIV will now have an option of highly effective monthly shots rather than taking a pill every day," said Greg Millett, amfAR's director of public policy. "Still, obstacles remain, including high cost and the fact that people with HIV not currently on a stable ART regimen who have unsuppressed virus won't directly benefit from this news. There is more work to do to help everyone."

Ending the U.S. HIV Epidemic
CDC Report Highlights U.S. Prevention Priorities
The U.S. Centers for Disease Control and Prevention (CDC) recently released HIV Prevention in the United States: Mobilizing to End the Epidemic. The 28-page, illustrated report provides an overview of the HIV epidemic in the U.S., CDC's vision for HIV prevention, and ways the agency is working to mobilize efforts to end the HIV epidemic. CDC is pursuing a "high-impact approach" to reduce new HIV infections and improve outcomes for people with HIV. Core strategies for preventing new HIV infections include:
diagnosing all people with HIV as early as possible by making HIV testing simple, accessible, and routine;

preventing new HIV transmissions by using proven interventions, including pre-exposure prophylaxis (PrEP) and syringe service programs (SSPs);

treating people with HIV rapidly and effectively to reach sustained viral suppression – which requires quickly linking people with HIV to care and treatment, as well as re-engaging those who have stopped receiving care;

responding quickly to potential HIV outbreaks by working to ensure that all jurisdictions have the capacity to identify, investigate, and respond to potential HIV outbreaks quickly; and

translating research into HIV prevention by supporting a range of activities, including research studies and data analyses, focused on improving and refining its core HIV prevention strategies.


Recognizing that "HIV prevention ultimately happens at the community level," CDC carries out its HIV prevention strategy primarily through funding activities at the state and local level. Currently, nearly 90% of CDC's domestic HIV prevention funding is directed to state and local health departments, community-based organizations, local education agencies, and other organizations to implement and strengthen HIV prevention.
Achieving CDC's HIV prevention goals "will require continued commitment by state and local governments, health officials, community organizations, healthcare providers, and people with HIV and others who could benefit from HIV prevention, care, and treatment services, according to Dr. Demetre Daskalakis, director of CDC's Division of HIV/AIDS Prevention. "It is my hope that the challenges we face as a nation will compel us as a community to work even harder to confront barriers to healthcare and ensure that quality HIV prevention and care services are available and accessible to all Americans, in every part of the country, regardless of race, income, sexuality, or gender identity."

Pre-Exposure Prophylaxis
Ready, Set, PrEP Program Offers Expanded Mail Order Options
The Department of Health and Human Services (HHS) recently announced enhanced mail order delivery options for Ready, Set, PrEP participants. HHS's Ready, Set, PrEP is a nationwide program that provides HIV PrEP medications at no cost to people who do not have insurance that covers prescription drugs. Program participants can now choose to have PrEP medication sent directly to their home or healthcare provider when they enroll or use their choice of more than 32,000 co-sponsoring pharmacies. "This option allows our Indian Health Service (IHS), Tribal, and Urban facilities the ability to provide a wholly integrated service inclusive of HIV testing, PrEP prescriptions and now the ability for our healthcare providers to offer mail-order for Ready, Set, PrEP enrollees," noted Darrell LaRoche, director of the IHS Office of Clinical and Preventive Services. "The convenience of getting tested, enrolled and prescriptions mailed in one visit, sent to their home or a healthcare provider, is particularly important in Indian Country where a health center or pharmacy may be hours away." To check eligibility or to enroll in the program, please click here.

Funding Opportunities
HRSA Funding Opportunities Support Innovative Health Interventions and Data Capacity Building
The Health Resources and Services Administration's HIV/AIDS Bureau has released three new Notices of Funding Opportunity (NOFO) through the Ryan White HIV/AIDS Program (RWHAP). For your review, we are providing brief descriptions of these opportunities, the application deadlines, and links for further information.
HRSA-21-083: Building Capacity to Improve Collecting and Reporting Viral Suppression Data to the Medicaid Adult Core Set. This will fund a four-year initiative to develop strategies to build capacity among HIV surveillance and Medicaid programs for reporting high-quality HIV viral suppression data to comply with reporting of the HIV Viral Load Suppression measure in the Core Set of Adult Health Care Quality Measures for Medicaid. Applications are due by February 16.
The other two funding opportunities are for activities that will use an implementation science framework to support the scale-up of effective and innovative intervention strategies for:
improving HIV health outcomes for people with substance use disorder;

improving HIV health outcomes for lesbian, gay, bisexual, transgender, or queer (LGBTQ+) youth;

improving HIV health outcomes for people who are or have been incarcerated; and

improving HIV health outcomes by using telehealth services.


HRSA-21-076: Using Innovative Intervention Strategies to Improve Health Outcomes Among People with HIV – Coordinating Center. This will fund an organization to act as a coordinating center for technical assistance (CCTA). The CCTA will solicit and subaward up to 20 RWHAP-funded recipients/subrecipients to serve as implementation sites. Each site will pilot one intervention strategy in one of the focus areas. Applications are due March 8.

HRSA-21-068: Using Innovative Intervention Strategies to Improve Health Outcomes Among People with HIV – Evaluation Center. This will fund an organization to act as an evaluation center (EC) to evaluate the piloted interventions. The EC will assess the ability of each subawarded site to successfully implement and integrate the intervention strategy. The EC will also assess associated improvements in client outcomes along the HIV care continuum for clients engaged in the piloted interventions. Applications are due March 8.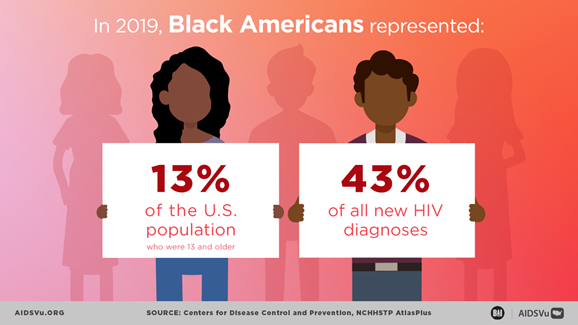 HIV Educational Resources
AIDSVu Creates Updated Infographics on Black Americans and HIV
In commemoration of National Black HIV/AIDS Awareness Day on February 7, AIDSVu published an updated resource page with a series of infographics focusing on new HIV diagnoses and trends. The infographic themes include:
HIV Surveillance Reports and Other Resources from CDC
CDC recently issued several new HIV-related resources:
HIV and AIDS Data Through December 2018 – This 17-page surveillance supplemental report includes data provided for the Ryan White HIV/AIDS Program (RWHAP), including:
the reported number of AIDS cases from 2014-2018 and the total number of persons living with diagnosed HIV infection ever classified as AIDS by area of residence in eligible metropolitan areas, transitional grant areas, and emerging communities;

the reported number of persons living with non-AIDS HIV infection and HIV infection ever classified as AIDS in U.S. states and dependent areas; and

the reported number of persons living with non-AIDS HIV infection, HIV infection ever classified as AIDS, and total numbers for both groups in eligible metropolitan areas, transitional grant areas, and emerging communities.


Core Indicators for Monitoring the Ending the HIV Epidemic Initiative (Preliminary Data) – These surveillance data tables provide the most recent available information on U.S. HIV diagnoses and linkage to HIV medical care, as well as the number of people with indications for PrEP, number of PrEP prescriptions issued, and PrEP coverage. These tables include data for states, selected counties, and geographic regions. Breakdowns by gender, age, race/ethnicity, and transmission category are also provided.


Condom Pocket Guide – This easy-to-read resource is arranged into four sections focusing on: what condoms are and their role in preventing transmission of HIV and other sexually transmitted infections; the main types of condoms; how to use external condoms; and how to use internal condoms.


HIV and African American People – This fact sheet includes breakdowns of HIV diagnoses among African Americans by gender, race/ethnicity, and transmission category in 2018. It also discusses trends in new HIV diagnoses among African American men and women during the period from 2014 through 2018, as well as HIV prevalence, the HIV care continuum, and deaths among African Americans diagnosed with HIV.
COVID-19 Briefs
New COVID-19 Vaccine Resources
CDC and the Kaiser Family Foundation (KFF) have developed several resources focusing on particular concerns related to COVID-19 vaccine access and adoption. CDC has organized many of its COVID-19 vaccine resources into a "Getting Ready for Your COVID-19 Vaccine" section with answers to commonly asked questions about the efficacy, safety, and potential side effects of the available vaccines, as well as whether a person who has had COVID-19 still needs to be vaccinated, and when people can stop wearing masks and spend time with others again. A drop-down menu on the resources page provides links to state health department web pages that explain how and where to get a COVID-19 vaccine and who is currently eligible to receive the vaccine.
KFF's recent COVID-19 issue briefs and data compilations include the following:
Recent COVID-19 Research from MMWR
CDC's Morbidity and Mortality Weekly Report (MMWR) is continuing to provide extensive coverage of COVID-19-related research. The reports are aggregated on a page devoted to studies about COVID-19 and summarized in a weekly podcast. For your convenience, we have compiled links to recent MMWR papers below:


COVID-19 Vaccination
Other Prevention/Mitigation Measures and Testing
Pandemic Demographics
COVID-19 Transmission, Outbreaks, and Viral Variants
Health Risks, Outcomes, and Related Issues