In Brief: November 19, 2020
Inside This Issue: Promising COVID-19 vaccine candidates, face masks also protect wearers, effects of COVID-19 on persons with HIV, social determinants of health and HIV, and more.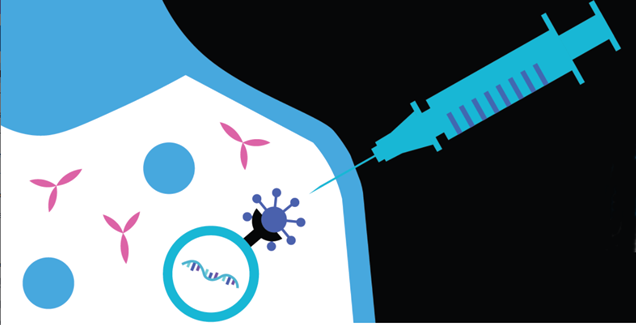 COVID-19 Prevention News: Vaccines and Masks
Pfizer/BioNTech Vaccine Candidate Found to Be 95% Effective in Preventing COVID-19
Since the early days of the COVID-19 pandemic, government and private research teams worldwide have been working around the clock to develop safe and effective vaccines to prevent infection with SARS-CoV-2 – the virus responsible for COVID-19. This month, pharmaceutical research teams have released preliminary data from clinical trials indicating that two vaccine candidates appear to be highly effective in preventing COVID-19.
On November 9 and 18, Pfizer Inc. and BioNTech SE announced their vaccine candidate, BNT162b2, was 95% effective in preventing COVID-19 beginning 28 days after trial participants received the first vaccine dose. In the Phase 3 trial, more than 43,500 participants without evidence of prior SARS-CoV-2 infection were divided into two groups that received either the BNT162b2 vaccine or placebo injections. The trial researchers then tracked the number of COVID-19 cases in each group over time. They found that, of the first 170 cases observed, 162 occurred in the placebo group, and just 8 occurred in the vaccine group. Vaccine efficacy was consistent across age, gender, and race/ethnicity demographics, including persons older than 65 years.
Pfizer and BioNTech SE also reported that BNT162b2 vaccine had achieved the safety data milestones required by U.S. Food and Drug Administration (FDA) for Emergency Use Authorization (EUA). There were "no serious safety concerns observed" among the participants, with the most common significant adverse effects being fatigue (3.8%) and headache (2%). Within days, the companies plan to file the required paperwork for an EUA with FDA and to share data with other regulatory agencies around the globe. The companies expect to produce up to 50 million vaccine doses globally in 2020 and up to 1.3 billion doses by the end of 2021.
BNT162b2 is a messenger RNA (mRNA)-based vaccine designed to induce immune responses against the spike protein on the SARS-CoV-2 virus. Unlike conventional vaccines, which can take months to produce by growing weakened forms of the virus, mRNA vaccines can be constructed quickly using only the pathogen's genetic code, according to Pfizer/BioNTech. The RNA is injected into the body and enters cells, where it provides instructions to produce antigens. These affected cells then present the antigens to the immune system, prompting T-cell and antibody responses that can fight the virus.

Moderna/NIAID Vaccine Candidate Also Shows High Efficacy
On November 16, a joint research team from Moderna Inc. and National Institute of Allergy and Infectious Diseases (NIAID) announced the results of an interim data analysis for their vaccine candidate mRNA-1273. Like the Pfizer/BioNTech vaccine candidate, mRNA-1273 uses mRNA technology, which in this case, is combined with the stabilized SARS-CoV-2 spike immunogen (S-2P) developed by NIAID scientists.
An independent data and safety monitoring board for mRNA-1273 reported that the candidate was safe and well-tolerated and noted a vaccine efficacy rate of 94.5%. Of the 95 cases of COVID-19 that occurred among the Phase 3 trial's more than 30,000 participants, only 5 occurred in the vaccinated group, compared to 90 in the placebo group. Of the 11 cases of severe COVID-19 that occurred in the study, none occurred in the vaccinated participants.
The mRNA-1273 vaccine candidate transitioned from early development with NIAID to HHS's Biomedical Advanced Research and Development Authority (BARDA), for advanced development and manufacturing support, to meet the federal government's Operation Warp Speed goals for rapid vaccine development.
Speaking on the Today Show, NIAID director Dr. Anthony Fauci called the recent vaccine results "really quite impressive . . . now we have two vaccines that are really quite effective." He projected that both the BNT162b2 and mRNA-1273 vaccines could be approved soon and that doses could begin to be available to high-risk individuals by late December.


CDC: Face Masks Can Protect Wearers – Not Just Others – from COVID-19
In a scientific brief published this month, the U.S. Centers for Disease Control and Prevention (CDC) noted that wearing properly designed, multi-layer face masks can protect both mask wearers and others from infection with SARS-Cov-2. Previous CDC guidance had emphasized the value of face masks for preventing SARS-Cov-2 transmission from infected mask wearers – many of whom may be asymptomatic or presymptomatic – to uninfected others. Although this remains a very important benefit of face masks, a growing body of research indicates that masks also protect uninfected mask wearers from becoming infected by others.
"The prevention benefit of masking is derived from the combination of source control and personal protection for the mask wearer," according to CDC. "The relationship between source control and personal protection is likely complementary and possibly synergistic, so that individual benefit increases with increasing community mask use." In its brief, CDC also cited a recent economic analysis showing that, in addition to reducing COVID-19-related illness and death, increasing universal masking by just 15% could prevent the need for lockdowns and reduce associated U.S. economic losses of up to $1 trillion – about 5% of the nation's gross domestic product.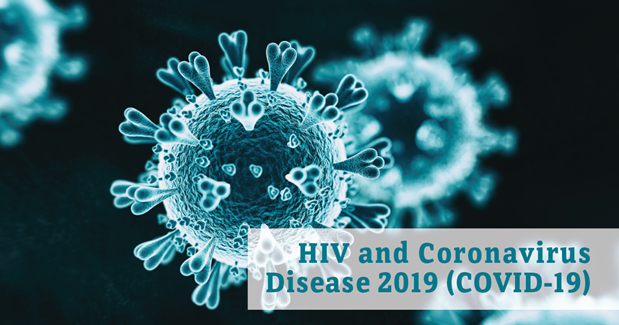 HIV and COVID-19
amfAR: HIV Infection Does Not Increase COVID-19 Mortality
Although people with HIV appear to be more frequently diagnosed with COVID-19, their COVID-19 mortality rates are no higher than in the general population, according to a recent study by The Foundation for AIDS Research (amfAR).
When COVID-19 first emerged, amfAR researchers set out to review outcomes in every reported case of HIV and SARS-CoV-2 coinfection during the first six months of the pandemic. SARS-CoV-2 is the virus responsible for COVID-19. Altogether, the amfAR team compiled and analyzed outcomes for a total of 6,946 coinfected persons. In addition to the mortality finding above, the research showed:
HIV antiretroviral therapy (ART) did not appear to protect persons from SARS-CoV-2 infection or to play a major role in other COVID-19 outcomes;

the most important predictors of outcome among coinfected persons were pre-existing conditions, especially heart or chronic respiratory disease; and

even among people who were not taking ART, the risk of COVID-19 death did not appear to be higher, although they may have experienced more severe COVID-19.
"We [amfAR] are an HIV research organization, and it was important to all of us to gain a good understanding of the COVID-19 risks to people living with HIV," noted amfAR research director Dr. Rowena Johnston. She noted that amfAR plans to support additional research to better understand the long-term consequences of COVID-19 and its effect on the HIV reservoir.

Social Determinants of Health
CDC Report Examines Effects of Social Determinants of Health on HIV Infection
Social determinants of health (SDH) are highly correlated to HIV diagnosis rates, linkage to care, and viral suppression among adults age 18 and older, according to a new report from the CDC. SDH "refers to the overlapping social structures and economic systems (e.g., social environment, physical environment, health services, and structural and societal factors) that are responsible for most health inequities."
To understand the interrelationship of SDH and HIV, CDC researchers correlated HIV surveillance data with census tract data for several SDH indicators, including:
Federal poverty status, defined as the percentage of persons in the census tract living below the federal poverty level (FPL);

Median household income in the census tract;

Education level, defined as the percentage of the adult population in the census tract with less than a high school education;

Health insurance coverage rates in the census tract; and

Income inequality in the census tract.
For their analysis, the CDC researchers divided each of the SDH indicators for census tracts into four tiers, corresponding to lowest to highest levels of poverty, household income, and so forth. In addition to analyzing these SDH indicators for all adults in census tracts, the researchers also broke down the SDH data by race/ethnicity, sex at birth, age, and transmission category.
Their analysis revealed that:
Rates of HIV diagnosis, prompt linkage to HIV care, and HIV viral suppression were each correlated with the five SDH indicators.

HIV diagnosis rates were generally lowest in the census tracts with the lowest poverty levels, least income inequality, highest median household income, highest percentage of high school graduates, and highest levels of health insurance coverage. Likewise, the best rates for prompt linkage to HIV care and for viral suppression were also seen in these comparatively prosperous census tracts.

In contrast, the highest HIV diagnosis rates and lowest linkage to care and viral suppression rates were seen in the least prosperous census tracts – those with the highest poverty levels, greatest income inequality, lowest median household income, lowest percentage of high school graduates, and lowest levels of health insurance coverage.

As in many previous studies, the new SDH analysis found large disparities in HIV diagnosis, linkage to care, and viral suppression rates by race/ethnicity, sex at birth, age, and transmission category.

However, within each of these demographic categories, SDH continued to exert an influence: HIV diagnosis rates were generally lower, and linkage to care and viral suppression rates generally higher, in the most prosperous census tracts, and vice-versa.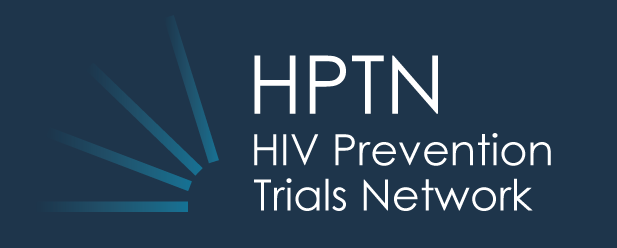 HIV Prevention
Long-Acting Cabotegravir Injections Prevent HIV Infection in Women
A pre-exposure prophylaxis (PrEP) regimen containing a long-acting form of the HIV drug cabotegravir (CAB) injected once every 8 weeks has been found to be safe and more effective than a daily oral PrEP regimen in preventing HIV infection among cisgender women, according to the latest research findings from the HPTN 084 study. Launched in late 2017, HPTN 084 enrolled 3,223 HIV-negative, sexually active cisgender women at 20 clinical research sites in Botswana, Eswatini, Kenya, Malawi, South Africa, Uganda, and Zimbabwe. Study participants were randomly assigned to receive either CAB injections every 8 weeks and placebo daily oral tablets or placebo injections every 8 weeks and daily oral Truvada – a PrEP pill.
Truvada, which contains the antiretroviral drugs emtricitabine and tenofovir disoproxil fumarate, is currently the only form of HIV PrEP approved by the U.S. Food and Drug Administration for persons at risk of acquiring HIV from receptive vaginal sex. Truvada is highly effective in preventing sexual acquisition of HIV when taken daily as prescribed. However, a safe and effective long-acting injectable form of PrEP would offer a new HIV prevention option that may be easier and more desirable for some women, according to the National Institutes of Health (NIH), which is funding HPTN 084.
Among the 38 women in the trial who acquired HIV, four were receiving long-acting CAB and 34 were receiving daily oral Truvada. This translated to an HIV incidence rate of 0.21% in the CAB group and 1.79% in the Truvada group. "While both PrEP methods were highly effective at preventing HIV acquisition, the protective effect of cabotegravir met the statistical criteria for superiority," NIH noted.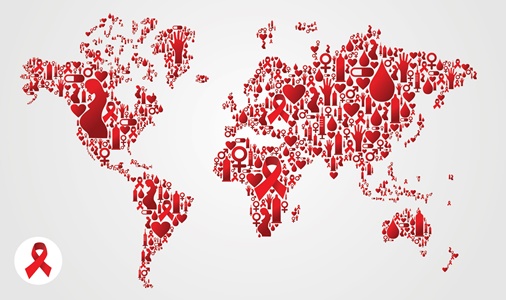 World AIDS Day
Upcoming Event: "Live with Leadership" on December 1
On World AIDS Day, HHS's Office of Infectious Disease and HIV/AIDS Policy (OIDP) will host a special "Live with Leadership" session in which key HHS officials and community leaders will discuss new and ongoing work under the federal Ending the HIV Epidemic: A Plan for America (EHE) initiative. This Live with Leadership Zoom session will take place on Tuesday, December 1, from 2 to 3 pm ET, and will be accessible by clicking on this Zoom link (no registration required). The event will be moderated by Harold Phillips, Chief Operating Officer for EHE. Featured speakers will discuss the importance of viral suppression in the EHE initiative; the Ready, Set, PrEP program to increase access to PrEP; and the ongoing effects of COVID-19 on persons living with HIV in the United States. If you plan to attend the event, you are invited to submit questions for speakers at the following email address: EndHIVEpidemic@hhs.gov.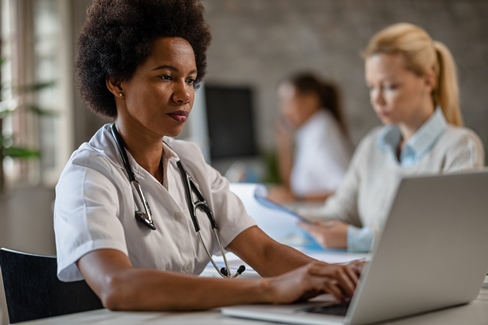 Other COVID-19 Research
Recent COVID-19 Reports from MMWR
CDC's Morbidity and Mortality Weekly Report (MMWR) is continuing to provide extensive coverage of COVID-19-related research. The reports are aggregated on a page devoted to studies about COVID-19, and summarized in a weekly podcast. For your convenience, we have grouped recently published MMWR reports on COVID-19 into several subtopics below:
Prevention, Testing, and Transmission
Outbreaks
Pandemic Response
Health Risks, Outcomes, and Related Issues