2020 HIV/HCV Co-infection Awareness Day (May 17)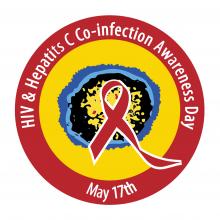 In 2018, the AIDS Education and Training Centers (AETC) Co-infection Community of Practice and Learning (COPL) designated May 17 as the first HIV/HCV Coinfection Awareness Day (HHCAD). According to COPL, the date was chosen to complement HIV Vaccine Awareness Day (May 18), Hepatitis Testing Day (May 19), and National Asian and Pacific Islander HIV Awareness Day (May 19). May is also Hepatitis Awareness Month.
The U.S. Centers for Disease Control and Prevention (CDC) has estimated that about 25% of all persons living with HIV in the U.S. are co-infected with the hepatitis C virus (HCV). AETC notes that, "HIV/HCV Co-infection Awareness Day provides an opportunity for healthcare providers and health departments to educate colleagues, constituents, and clients about the importance of curing HCV infection in people living with HIV."
Healthcare professionals can consult HIV/HCV Co-infection: An AETC National Curriculum to increase their knowledge about HIV/HCV co-infection prevention, screening, diagnosis and treatment, as well as the barriers and co-factors that impede optimal treatment outcomes for co-infected people of color, in particular.
To further increase knowledge and awareness of HIV/HCV co-infection and to support activities commemorating HHCAD, we have compiled the following annotated list of online resources.
Fact Sheets, Infographics, and Briefs

HIV and Viral Hepatitis (CDC) – This fact sheet provides an overview of hepatitis A, B, and C, followed by a discussion of co-infections involving HIV and viral hepatitis, the risk factors for and prevalence of these coinfections in the U.S., the modes of viral hepatitis transmission, and approaches to prevent and treat viral hepatitis.
HIV and Hepatitis C (AIDSinfo) – This fact sheet describes what HCV is, how it is transmitted, the connection between HIV and HCV, and HCV prevention, testing, symptoms, and treatment. Also available in Spanish.
Epidemiology and Prevention of HIV and Viral Hepatitis Co-infections (CDC) – This brief discusses the transmission, prevalence, and health risks associated with co-infections involving HIV and hepatitis C or hepatitis B. It also includes guidelines and recommendations for the management of HIV and viral hepatitis co-infection, as well as links to additional resources on co-infection.
Barriers to Curing Hepatitis C Virus Among Coinfected People with HIV (AETC National Coordinating Resource Center) – According to AETC, this infographic "addresses some of the barriers to curing HCV infection among co-infected people with HIV. It highlights provider, patient, and financial/systems barriers, provides information for HCV treatment initiation based on the latest treatment guidelines, and offers additional considerations to help health professionals navigate through some of the challenges outlined."
Guidelines and Recommendations
Considerations for Antiretroviral Use in Patients with Coinfections (HHS) – This section of the Guidelines for the Use of Antiretroviral Agents in Adults and Adolescents Living with HIV includes recommendations for screening people living with HIV for viral hepatitis, including HCV; vaccinating for hepatitis A and B; providing antiretroviral therapy for HIV to co-infected persons; and concurrent treatment of HIV and HCV.
Patients with HIV/HCV Coinfection (American Association for the Study of Liver Diseases and Infectious Diseases Society of America) – This is a section of HCV Guidance: Recommendations for Testing, Managing, and Treating Hepatitis C. It includes tables of recommendations on managing interactions of the drugs used to treat HCV and HIV, as well as guidance regarding regimens not recommended for persons with HIV/HCV co-infection.
Curricula, Toolkits, and Other Educational Materials
HIV/HCV Co-infection: An AETC National Curriculum – This curriculum for healthcare providers and trainers of healthcare providers is designed "to increase their knowledge on HIV and HCV co-infection among people of color in the U.S. and its territories," according to AETC. The curriculum has the following six core modules: epidemiology; prevention; screening, testing, and diagnosis; HCV treatment; recommendations for subpopulations of HIV/HCV co-infected persons; and addressing barriers for co-infected people of color.
Treatment of HCV in Persons with HIV Coinfection (University of Washington) – This self-study module, updated in 2020, provides background on HCV/HIV co-infection, a review of data on HCV treatment in people with HIV, recommended HCV treatment in persons with HIV co-infection, treatment of HIV in persons with HCV co-infection, drug interactions with HIV/HCV co-infection treatment, a summary of key points, and an extensive reference list.
HIV and HCV Drug Interactions: Quick Guides for Clinicians (Northeast/Caribbean AETC) – This is a collection of updated clinical guides regarding drug interactions of HCV direct-acting antivirals (DAAs) with other common medications used in primary care and HIV antiretroviral drugs.
Hepatitis C Prescriber Toolkit (TargetHIV, HRSA) – This toolkit has state-specific resources to help providers navigate the health coverage requirements that affect the prescription of HCV treatment. It includes information about prescribing restrictions; Ryan White HIV/AIDS Program AIDS Drug Assistance Program coverage; and Medicare coverage.
Ending the HIV & HCV Epidemics: A Critical Role for Substance Use Providers (National Alliance for HIV Education and Workforce Development): "This slide set includes substance use disorder providers to the issues of HIV and HCV screening and prevention, recognizing the important role that substance use disorder providers play in these areas," according to AETC.
Viral Hepatitis in People with HIV: A Case-Based Primer (Southeast AETC) – This recorded webinar from 2019 covers key topics including hepatitis B virus (HBV) and hepatitis C virus (HCV) treatment eligibility, drug-drug interactions, and hepatocellular carcinoma screening in people with HIV.
The Ryan White Program Opiate Epidemic Response in WV (Southeast AETC) – This recorded webinar discusses outbreaks of HIV and HCV infection in southern West Virginia; describes strategies to reduce the harm associated with injection drug use in comprehensive outpatient HIV care clinics; and identifies the challenges associated with implementation of community-based public health syringe services programs in rural areas.