National Native HIV-AIDS Awareness Day 2020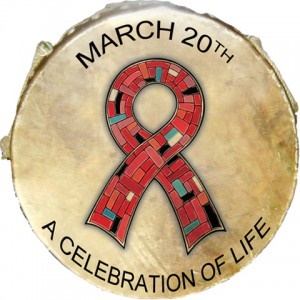 The National Native HIV/AIDS Awareness Day (NNHAAD) will be observed this year on Friday, March 20. NNHAAD "is a national community mobilization effort designed to encourage American Indians, Alaska Natives, and Native Hawaiians across the United States and territorial areas to get educated, get tested, get involved in prevention, and get treated for HIV and AIDS," according to the NNHAAD website.
Of the 38,739 HIV diagnoses in the U.S. and dependent areas during 2017, about 0.5% (212) were among American Indians and Alaska Natives (AI/AN). Of those diagnoses, 79% (167) were among men and 21% (45) were among women. Of the 167 HIV diagnoses among AI/AN men, nearly nine out of ten (86%) were among gay and bisexual men. For the period 2010 through 2016, the number of new HIV diagnoses increased 46% among AI/AN persons overall and 81% among AI/AN gay and bisexual men.
To support activities commemorating NNHAAD, we have compiled an annotated list of online resources focusing on HIV/AIDS among AI/AN persons.


Online Resources
National Native HIV/AIDS Awareness Day Website. This is the official website for NNHAAD. The site provides background information about the day, together with links to fact sheets, other educational materials, and products to promote HIV/AIDS awareness.
HIV/AIDS and American Indians/Alaska Natives. This web page from the Office of Minority Health has detailed statistical information about HIV testing, HIV and AIDS cases, and death rates among the AI/AN population.
HIV and American Indians and Alaska Natives. This CDC fact sheet, updated in 2019, includes information about HIV trends among AI/AN in the U.S., prevention challenges, and steps CDC is taking to reduce new infections and improve HIV treatment and care in this group.
Diagnoses of HIV Infection in the United States and Dependent Areas, 2018 (Preliminary). This 129-page CDC report compiles detailed information about HIV and AIDS cases and deaths in the U.S., including breakdowns for different racial and ethnic groups, including the AI/AN population.
American Indians and Alaska Natives: Health Disparities in HIV/AIDS, Viral Hepatitis, STDs, and TB. This CDC web page examines health disparities in the AI/AN population, including HIV, viral hepatitis (hepatitis A, B, and C), sexually transmitted infections (gonorrhea, chlamydia, and syphilis), and tuberculosis.
Native Gay Men and Two Spirit People: HIV/AIDS and Viral Hepatitis Programs and Services. This is an issue brief from NASTAD.
Celebrate American Indian/Alaska Native Heritage Month! This CDC resource page includes information about health indicators and health disparities among the AI/AN population, and discusses strategies for reducing health disparities. AI/AN Heritage month is commemorated in November.
American Indian and Alaska Native Health. This web page from MedlinePlus has links to many health resources focusing specifically on AI/AN communities.