2019 World AIDS Day (December 1)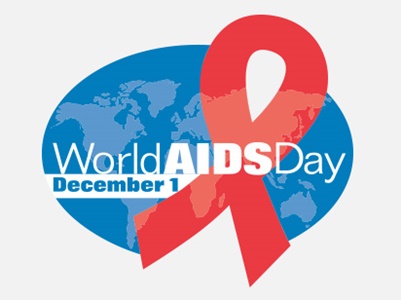 On Sunday, December 1, the global community will observe the 32nd annual World AIDS Day. The theme for 2019 is "Communities Make the Difference." According to UNAIDS, about 37.9 million people were living with HIV worldwide during 2018 – the latest year for which data are available. Of this total, about 36.2 million were adults (aged 15 years and older), and 1.7 million were children. Substantial progress has been made to reduce the number of new HIV infections and AIDS-related deaths and to increase the number of people receiving effective antiretroviral treatment (ART). During 2018:
To help you and your clients or patients prepare for and commemorate World AIDS Day, we have compiled an annotated list of online resources focusing on the HIV/AIDS epidemic at the global and national levels.
The Global HIV/AIDS Epidemic
UNAIDS Website – This website includes information about HIV/AIDS policies and programs, regional information, global statistics, and news. Highlights include the following pages and recent reports:
Global HIV & Tuberculosis. This CDC web page includes statistics on HIV and TB, as well as U.S. efforts to help heavily affected nations respond effectively to both epidemics.
Kaiser Family Foundation Publications About the Global Epidemic

The U.S. HIV/AIDS Epidemic
Planning Documents
Ending the HIV Epidemic: A Plan for America. In early 2019, the Trump Administration launched this proposed plan to end the HIV epidemic in the U.S. within 10 years. According to the U.S. Department of Health and Human Services, the plan "will leverage the powerful data and tools now available to reduce new HIV infections in the U.S. by 75% in five years and by 90% by 2030." The program will direct significant resources to 48 counties, Washington, D.C., San Juan, Puerto Rico, as well as 7 states that have a substantial rural HIV burden. In addition, the Plan's four main strategies – diagnose, treat, protect, and respond – will be implemented across the entire U.S. within 10 years.
National HIV/AIDS Strategy: Updated to 2020. This 74-page document developed by the Obama Administration provides guidance for the U.S. HIV/AIDS response through the year 2020. It outlines a series of steps needed to achieve four primary goals: 1) reducing new HIV infections; 2) increasing access to care and improving health outcomes for people living with HIV; 3) reducing HIV-related disparities and health inequities; and 4) achieving a more coordinated national response to the U.S. HIV epidemic.
CDC Fact Sheets Focusing on the U.S. Epidemic and Specific Population Groups