2019 HIV Long-Term Survivors Awareness Day (June 5)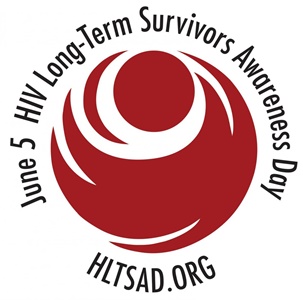 HIV Long-Term Survivors Awareness Day (HLTSAD) is commemorated on June 5 – the anniversary of the day in 1981 when the U.S. Centers for Disease Control and Prevention (CDC) reported the first cases among gay men of a mysterious illness that would later become known as AIDS.
According to its website, HLTSAD "is an opportunity to spotlight the unique role of HIV long-term survivors (HLTS) in the AIDS epidemic, and to raise awareness about the challenges and resilience of individuals who were on the frontlines of the early epidemic."
The theme for 2019 HLTSAD is "Empowered to Thrive." The organizers of the awareness day note that:
Over 50% of the 1.2 million people living with HIV in the United States are over the age of 50.
More than 1 in 4 have been living with HIV for over 25 years.
25% of people have lived with HIV since 1996 or earlier. All have lived over half of their lives with HIV/AIDS.
For the 1980s and most of the 1990s, having HIV was considered a death sentence. Long-term survivors are the generation that survived AIDS.
They are visible symbols of resilience, strength, and perseverance.
To help commemorate the day, we've compiled a brief annotated list of online resources focusing on HIV long-term survivors.
HIV Long-Term Survivors Awareness Day website: This site includes background information about HLTSAD, long-term survivors, and events to mark the day.
HIV Long-Term Survivors Day #empowered2thrive: HIV.gov's resource page for HLTSAD, which includes a variety of materials to help organizations raise awareness about HIV among long-term survivors.
LetsKickASS – AIDS Survivor Syndrome: This grassroots organization is responsible for HLTSAD and is devoted to improving the lives of survivors.
Pre-HAART Long-Term Survivors Forum (Poz): This question-and-answer forum is for persons who have been living with HIV since before 1996 – the year when highly active antiretroviral therapy (HAART) first became widely available.
Long-Term Survivors of HIV (thewellproject): Web page with background information about HLTS, AIDS survivor syndrome, and the physical health and quality of life concerns of this community.