2019 National Youth HIV/AIDS Awareness Day (April 10)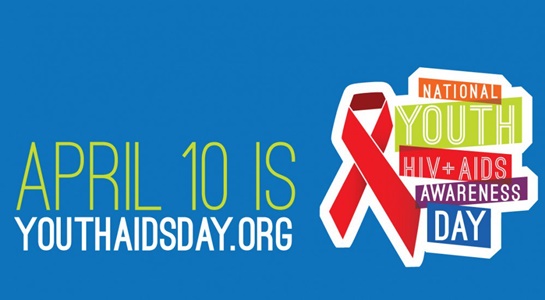 The seventh annual National Youth HIV and AIDS Awareness Day (NYHAAD) is being observed this year on Wednesday, April 10. Many national, state, and private organizations are partners or supporters of NYHAAD. The day's founding partners include: Advocates for Youth; AIDS Alliance for Children, Youth, and Families; AIDS United; NASTAD; National Coalition of STD Directors; NMAC; and Sexuality Information and Education Council of the United States.
Advocates for Youth notes that, "Today's young people are the first generation who have never known a world without HIV and AIDS." More than 20% of all new HIV diagnoses in the U.S. during 2017 were among youth between the ages of 13 and 24, and over 40% were among young persons under 30. "NYHAAD is a day to educate the public about the impact of HIV and AIDS on young people as well as highlight the amazing work young people are doing across the country to fight the HIV and AIDS epidemic."
To support activities commemorating NYHAAD, we have compiled an annotated list of online resources focusing on HIV/AIDS among children, adolescents, and young adults.


General Information
National Youth HIV and AIDS Awareness Day: This is Advocates for Youth's web page for NYHAAD. It provides background information about the day, together with links to resource and advocacy toolkits, event listings, and downloadable infographics focusing on HIV/AIDS among young persons.
HIV Among Youth. Fact sheet from CDC.
HIV and Children and Adolescents. Fact sheet from AIDSinfo.
HIV and Young Women and Girls in the United States. Fact sheet from Advocates for Youth.
STDs & HIV: Get the Facts, Learn the Risks, Protect Yourself. Fact sheet from Advocates for Youth.
HIV Surveillance – Adolescents and Young Adults. Slide set from CDC, with breakdowns by gender, age, race/ethnicity, transmission category, and geographic area.
Youth Risk Behavior Surveillance – United States, 2017. Article from the Morbidity and Mortality Weekly Report with extensive demographic and risk information for U.S. students in grades 9 through 12.
Young People, HIV, and AIDS (from Avert) – This page provides general information about HIV among youth and has links to more than 125 reports and articles focusing on youth.
Being Young and Positive (from Avert) – Information about HIV/AIDS for young persons. Topics include: taking responsibility for your health, telling your friends, having relationships, having sex, and sharing responsibility for safer sex.
Children and AIDS: Statistical Update (Unicef) – Brief report about the global impact of HIV/AIDS on children.


Fact Sheets from Unicef:
Selected Abstracts and Articles About HIV Among Youth
HIV Diagnoses Among Persons Aged 13-29 Years – United States, 2010-2014 (Morbidity and Mortality Weekly Report)
Self-Disclosure of HIV Status Among Youth Living with HIV: A Global Systematic Review (AIDS and Behavior)
Improving the Youth HIV Prevention and Care Continuums: The Adolescent Medicine Trials Network for HIV/AIDS Interventions (JMIR Research Protocols)
Triggered Escalating Real-Time Adherence Intervention to Promote Rapid HIV Viral Suppression Among Youth Living with HIV Failing Antiretroviral Therapy: Protocol for a Triggered Escalating Real-Time Adherence Intervention (JMIR Research Protocols)
Prevalence and Attitudes Regarding Withdrawal Use for Pregnancy and HIV Prevention Among HIV-Positive Youth (AIDS Patient Care STDs)
The Stepped Care Intervention to Suppress Viral Load in Youth Living With HIV: Protocol for a Randomized Controlled Trial (JMIR Research Protocols)
Variations in Testing for HIV and Other Sexually Transmitted Infections Across Gender Identity Among Transgender Youth (Transgender Health)
Consent for HIV Testing Among Adolescent Sexual Minority Males: Legal Status, Youth Perceptions, and Associations with Actual Testing and Sexual Risk Behavior (AIDS and Behavior)
Implications for PrEP Uptake in Young Adults Experiencing Homelessness: A Mixed Methods Study (AIDS Education and Prevention)
Substance Use and HIV Among Justice-Involved Youth: Intersecting Risks (Current HIV/AIDS Reports)
Profiles of Caregiving Behaviors Among Children and Adolescents with Perinatally Acquired HIV (AIDS Care)
The Impact of Indigenous Youth Sharing Digital Stories About HIV Activism (Health Promotion Practice)
Exploring the Relationship Between Foster Care Experiences and HIV Risk Behaviors Among a Sample of Homeless Former Foster Youth (AIDS and Behavior)
Promising Approaches for Engaging Youth and Young Adults Living with HIV in HIV Primary Care Using Social Media and Mobile Technology Interventions: Protocol for the SPNS Social Media Initiative (JMIR Research Protocols)
Developing a Mobile App (LYNX) to Support Linkage to HIV/Sexually Transmitted Infection Testing and Pre-Exposure Prophylaxis for Young Men Who Have Sex with Men: Protocol for a Randomized Controlled Trial (JMIR Research Protocols)
A Focus on the HIV Care Continuum Through the Healthy Young Men's Cohort Study: Protocol for a Mixed-Methods Study (JMIR Research Protocols)
Unmet Health Care Needs Among Young Transgender Women at Risk for HIV Transmission and Acquisition in Two Urban U.S. Cities: The LifeSkills Study (Transgender Health)
Strategies to Treat and Prevent HIV in the United States for Adolescents and Young Adults: Protocol for a Mixed-Methods Study (JMIR Research Protocols)
Acute HIV Infection in Youth: Protocol for the Adolescent Trials Network 147 (ATN147) Comprehensive Adolescent Research and Engagement Studies (CARES) Study (JMIR Research Protocols)
Brief Report: Role of Sociobehavioral Factors in Subprotective TFV-DP Levels Among YMSM Enrolled in 2 PrEP Trials (Journal of Acquired Immune Deficiency Syndromes)
Psychological Factors Related to Resilience and Vulnerability Among Youth with HIV in an Integrated Care Setting (AIDS Care)
"Stay Strong! Keep Ya Head Up! Move on! It Gets Better!!!!": Resilience Processes in the HealthMpowerment Online Intervention of Young Black Gay, Bisexual, and Other Men Who Have Sex with Men (AIDS Care)
Brothers Building Brothers by Breaking Barriers: Development of a Resilience-Building Social Capital Intervention for Young Black Gay and Bisexual Men Living with HIV (AIDS Care)
School Connectedness as Psychological Resilience Factor in Children Affected by HIV/AIDS (AIDS Care)
Enhancing Health Among Youth Living with HIV Using an iPhone Game (AIDS Care)
HIV Health Care Transition Readiness: Embracing the Opportunity and Challenge (Journal of the Association of Nurses in AIDS Care)
Mental Health Diagnoses, Symptoms, and Service Utilization in U.S. Youth with Perinatal HIV Infection or HIV Exposure (AIDS Patient Care and STDs)
Transgender and Other Gender-Diverse Youth's Progression Through the HIV Continuum of Care: Socioecological System Barriers (AIDS Patient Care and STDs)