2018 National HIV/AIDS and Aging Awareness Day (September 18)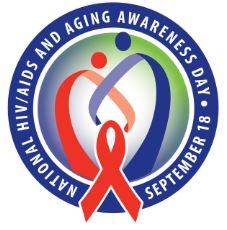 The 11th National HIV/AIDS and Aging Awareness Day (NHAAAD) will be observed on Tuesday, September 18. At year-end 2015, nearly half (47%) of all persons living with HIV in the U.S. were aged 50 and over. One-sixth of all new HIV diagnoses during 2016 were also among persons in this age group. According to the AIDS Institute, which launched NHAAAD in 2008, this awareness day "focuses on the challenging issues facing the aging population with regards to HIV prevention, testing, care, and treatment. In addition, there is an increased need for prevention, research, and data targeting the aging population, medical understanding of the aging process, and its impact on HIV/AIDS."
In particular, the NHAAAD campaign targets:
people living with HIV/AIDS who are aging with the disease or already over 50 at the time of their initial diagnosis;
increasing the use of protection from HIV infection, especially among the Baby Boomer population; and
the increasing number of grandparents becoming the primary guardians for children who have lost their parent(s) to HIV/AIDS.
To help you and your patients or clients prepare for and mark NHAAAD, we have compiled an annotated list of online resources focusing on HIV/AIDS among older persons.
Materials from CDC and HHS on HIV and Aging
HIV Among People Aged Fifty and Older – Fact sheet from U.S. Centers for Disease Control and Prevention (CDC).
HIV and Older Adults – Fact sheet from U.S. Department of Health and Human Services (HHS) AIDSinfo site.
Growing Older with HIV – Fact sheet from HHS's HIV.gov site.
Diagnoses of HIV Infection Among Adults Aged 50 Years and Older in the United States and Dependent Areas 2011-2016 – This recently released CDC surveillance report provides detailed data on the incidence and prevalence of HIV infection among older adults, with breakdowns by age, race/ethnicity, gender, transmission category, and region.
HIV and the Older Patient – Section of the HHS Guidelines for the Use of Antiretroviral Agents in Adults and Adolescents Living with HIV focusing on key considerations when caring for older persons receiving HIV treatment.
Web Sites and Pages on HIV and Aging
National HIV/AIDS and Aging Awareness Day – Official web page for the awareness day, with links to an event planning guide, a social media kit, and other materials.
HIV-Age.org – This site, focusing on issues related to HIV and aging, is presented by the American Academy of HIV Medicine, ACRIA, and the American Geriatrics Society. It includes clinical recommendations, journal articles, case studies, and training materials.
Aging & HIV/AIDS – Page on TheBody.com site with links to articles and resources.
SAGE: Advocacy and Services for LGBT Elders – HIV and Aging is one of the focus areas of SAGE's work.
Toolkits, Reports, and Fact Sheets on HIV and Aging
HIV and Aging Toolkit – From AETC HIV and Aging Workgroup
HIV and Aging Toolkits – From the Substance Abuse and Mental Health Services Administration (SAMHSA). The four toolkits currently available focus on: Life Transitions and Social Challenges; Depression, Anxiety, and Substance Abuse; Co-occurring Issues; and Medication Management.
Olvidados – Illuminating the Needs of the Forgotten: A National Health Assessment of Latinos Growing Older with HIV – Report from Latino Commission on AIDS and Hispanic Health Network.
The Unintended Consequences of AIDS Survival – Report from TPAN (Test Positive Aware Network).
Staying Healthy with HIV as You Age – Booklet from ACRIA and HIV-Age.org.
Coming of Age: A Guide to Ageing Well with HIV – Booklet from justri.org.
Older People and HIV – Fact sheet from AIDS InfoNet.
Aging and HIV – Fact sheet from TheWellProject.
Growing Older and Ageing with HIV – Fact sheet from AVERT.
Selected Recent Articles on HIV and Aging
Changing Comorbidities in HIV Positive People Older than 60 at London Clinic (HIV i-Base)
Aging with HIV (Poz)
I'm Still Standing (Poz)
Older HIV-Positive Men Have a High Risk of Frailty (Poz)
National Coalition Needed to Advance Issues Facing Long-Term Survivors of HIV, Report Says (TheBody)
Living with HIV More than Doubles the Risk of Erectile Dysfunction in Middle-Aged MSM (AIDSmap)
Aging, But Not So Gracefully (Poz)
Prostate Cancer and Lung Cancer Projected to Be Most Frequent Cancer Diagnoses in People with HIV by 2030 (AIDSmap)
Why Aren't Older People Tested for HIV? Views from Doctors and Patients (AIDSmap)
Is Age an Important Factor in Adults? (HIV i-Base)
At HIV Diagnosis, Older Individuals Are More Likely to Have AIDS (Poz)
Age Difference in HIV Infection Matters – But It's Not Always the Younger Person Who Is at Risk (AIDSmap)
AIDS Survivor Syndrome: It's Real (TheBody)
HIV Does Not Increase Aging-Related Brain Changes in Patients on ART (Healio)
People with HIV Take Note: This Year's Flu Strain Can Be Dangerous, Especially for Elders (TheBody)
Living and Aging Well with HIV: New Strategies and New Research (The Conversation)
Italian and U.S. Researchers Look to the Future and Explore Aging-Related Issues (CATIE)
HIV May Be Linked to Fatigue in Older People (Poz)
Cognitive Impairment Risk Rises with Increasing Age of People with HIV (Poz)
HIV and Ageing Workshop Reports at NATAP.org (HIV i-Base)
Selected Webcasts from 8th HIV and Ageing Workshop (HIV i-Base)
In Europe, More People 50 and Older Are Testing Positive for HIV (Poz)
How to Help Long-Term HIV Survivors Embrace an Unanticipated Life (TheBodyPro)
Struggle, Self-Love & Survival: Growing Old with HIV (Poz)
Shifting Cancer Burden (Poz)
Battle Scars (Poz)