2018 Great American Smokeout - Smoking, Tobacco Use, and HIV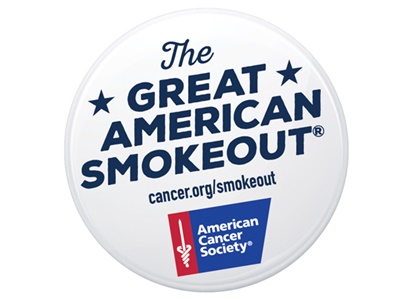 November is Lung Cancer Awareness Month, and Thursday, November 15, is the Great American Smokeout. The Smokeout is a national event, organized by the American Cancer Society, challenging people to stop smoking tobacco for one day as a first step toward quitting permanently.
There is a large and growing body of research on smoking and other tobacco use among persons living with HIV. In the U.S., a higher proportion of HIV+ persons are smokers compared to the uninfected general population. As a result, the incidence of smoking-related cancers and cardiovascular disease is substantially higher among HIV+ persons than among uninfected persons. Since smoking also weakens the immune system, HIV+ smokers are more susceptible to some opportunistic illnesses, including thrush, bacterial pneumonia, and pneumocystis pneumonia, than HIV+ nonsmokers.
In addition, several recent studies indicate that HIV+ smokers receiving effective antiretroviral treatment are more likely to die from smoking-related causes than from HIV-related illnesses. To help you, your colleagues, and clients or patients become more informed about this topic, we have compiled an annotated list of online resources focusing on smoking and HIV/AIDS, as well as smoking cessation.


General Information
Smoking [and HIV] (AIDSmap)
Smoking and HIV (HIV.gov)
Smoking and Tobacco Use [and HIV] (TheWellProject)
Quit Smoking Resources (Centers for Disease Control and Prevention)
Stay Away from Tobacco (American Cancer Society)
The Great American Smokeout (American Cancer Society's Smokeout website)
Selected Recent Articles and Abstracts
Smoking Is Tied to Faster Lung Function Decline in People with HIV (Poz)
People with HIV Tend Not to Realize How Much Smoking Shortens Life Span (Poz)
Big 3 Lung Cancer Risk Factors with HIV: Smoking, Low CD4s, Lung Infection (TheBodyPro)
HIV and Your Lungs (Poz)
HIV and Smoking (Poz)
Attention HIV-Positive Smokers: This Article Could Save Your Life (Poz)
There Is an Unaddressed Smoking Epidemic Among People with Hep C (Poz)
Smoking Causes One in Five Cancers in People with HIV in North America (AIDSmap)
Stopping Smoking Cuts the Risk of Some Cancers Quickly in People with HIV (AIDSmap)
Smoking Threatens Health Gains from Hepatitis C Treatment, U.S. Researchers Warn (AIDSmap)
Smoking Reduces Survival After Liver Cancer Diagnosis for People with Viral Hepatitis (AIDSmap)
Chronic Lung Disease in HIV Patients (AIDS Reviews)
Feasibility of a Smartphone-Based Tobacco Treatment for HIV-Infected Smokers (Nicotine and Tobacco Research)
Integrated Treatment for Smoking Cessation, Anxiety, and Depressed Mood in People Living with HIV: A Randomized Controlled Trial (Journal of Acquired Immune Deficiency Syndromes)
Addressing Smoking Among People Living with HIV: A Cross-Sectional Survey of Australian HIV Health Practitioners' Practices and Attitudes (AIDS Care)
Smoking and Accelerated Lung Function Decline in HIV-Positive Individuals: A Secondary Analysis of the START Pulmonary Substudy (Journal of Acquired Immune Deficiency Syndromes)
Cessation of Cigarette Smoking and the Impact on Cancer Incidence in HIV-Positive Persons: The D:A:D Study (Clinical Infectious Diseases)
Associations Between Pain-Related Anxiety, Gender, and Prescription Opioid Misuse Among Tobacco Smokers Living with HIV/AIDS (Substance Use and Misuse)
Perceived Risk of Developing Smoking-Related Disease Among Persons Living with HIV (AIDS Care)
Is Tobacco Use Associated with Neurocognitive Dysfunction in Individuals with HIV? (Journal of the International Association of Providers of AIDS Care)
Trends in Cigarette Smoking Among Adults with HIV Compared with the General Adult Population, United States – 2009-2014 (Preventive Medicine)