2021 World AIDS Day (December 1)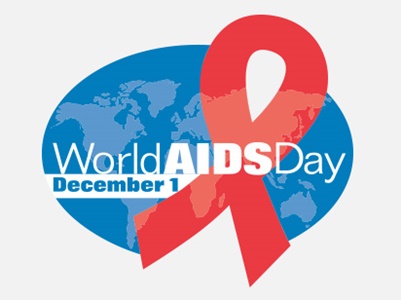 On Wednesday, December 1, the global community will observe the 34th annual World AIDS Day (WAD). This year's theme for WAD in the U.S. is "Ending the HIV Epidemic: Equitable Access, Everyone's Voice." This theme highlights U.S. federal agencies' "strong commitment to ending the HIV epidemic globally by addressing health inequities and ensuring the voices of people with HIV are central in all our work," according to Angeli Achrekar, acting U.S. global AIDS coordinator and Kaye Hayes, acting director of the Office of Infectious Disease and HIV/AIDS Policy.
The global theme for WAD this year is "End Inequalities. End AIDS. End Pandemics," according to UNAIDS. "This World AIDS Day, UNAIDS is highlighting the urgent need to end the inequalities that drive AIDS and other pandemics around the world. Without bold action against inequalities, the world risks missing the targets to end AIDS by 2030, as well as a prolonged COVID-19 pandemic and a spiraling social and economic crisis."
To help you and your patients or clients commemorate World AIDS Day, we have compiled overviews of the global and U.S. HIV epidemic, plus lists of online resources focusing on the epidemic at the global and national levels.


The Global HIV Epidemic
Global Overview
According to UNAIDS, about 37.7 million people were living with HIV worldwide during 2020 – the latest year for which data are available. Of this total, about 36.0 million were adults (aged 15 years and older), and 1.7 million were children. Substantial progress has been made to reduce the number of new HIV infections and AIDS-related deaths and to increase the number of people receiving effective antiretroviral treatment (ART).


During 2020:
An estimated 1.5 million people worldwide were newly infected with HIV. The annual number of new infections has declined about 52% since the peak in 1997.

About 680,000 people died of AIDS-related illnesses. Global AIDS-related deaths have fallen 47% since 2010, and 64% from the peak of about 1.9 million in 2004.

During 2020, COVID-19 lockdowns and other restrictions disrupted HIV testing, and in many countries led to steep drops in diagnoses and referrals to HIV treatment.

An estimated 85% of pregnant women living with HIV had access to ART to prevent transmission of HIV to their babies.

Continuum of HIV Care: In 2020, an estimated 84% of people living with HIV globally knew their HIV status; 73% were accessing ART, and 66% were virally suppressed.

Selected Resources About the Global Epidemic
UNAIDS Website – This website includes information about HIV/AIDS policies and programs, regional information, global statistics, and news. Highlights include the following pages and recent reports:
Global HIV & TB [Tuberculosis]. This CDC web page includes statistics on HIV and TB, as well as U.S. efforts to help heavily affected nations respond effectively to both epidemics.


Kaiser Family Foundation Publications
The U.S. HIV Epidemic
U.S. Overview
According to the U.S. Centers for Disease Control and Prevention (CDC), about 1.19 million people were living with HIV in the U.S. at the end of 2019 – the latest year for which data are available. In 2019, 36,801 people received an HIV diagnosis in the U.S. and dependent areas. From 2015 through 2019, HIV diagnoses in the U.S. decreased about 9% overall. However, the rates of new diagnoses and trends in diagnoses over time varied substantially by race/ethnicity, transmission category, gender, age, and geographic region.
New HIV Diagnoses in 2019:
Blacks/African American and Hispanics/Latino people accounted for 71% of all HIV diagnoses but comprised only 31% of the U.S. population.

The breakdown in new HIV diagnoses by race/ethnicity were: 42% among Black/African American people, 29% among Hispanic/Latino people, 25% among White people, and about 4% among all persons of all other race/ethnicities.

Over two-thirds (69%) of these newly diagnosed infections were attributed to male-to-male sexual contact; 23% were attributed to heterosexual contact; and 7% were among people who inject drugs.

By geographic region, more than half (53%) of all new diagnoses occurred in the South, while 20% occurred in the West, 14% in the Northeast, and 13% in the Midwest.

HIV Infection rates per 100,000 population were more than twice as high in the South (15.2) than in the Midwest (7.0).




Trends in HIV Diagnoses from 2015 through 2019:
HIV diagnoses declined 10% among men overall and 7% among women overall.

However, diagnoses increased 5% among transgender women, 44% among transgender men, and 18% among American Indians/Alaska Natives. In addition, diagnoses were stable among young persons 25 to 34 years old.

Trends in HIV diagnoses among MSM varied widely by race/ethnicity, with declines of 46% among persons of mixed race, 18% among Asian American, and 17% among White MSM. Diagnosis rates were relatively stable among Black/African American, Hispanic/Latino, Asian American, and Native Hawaiians/Other Pacific Islander MSM. HIV diagnoses among American Indian/Alaska Native MSM increased 41%.


Selected Resources About the U.S. Epidemic
Ending the HIV Epidemic: A Plan for America. According to the U.S. Department of Health and Human Services, this plan to end the U.S. HIV epidemic leverages "the powerful data and tools now available to reduce new HIV infections in the U.S. by 75% in five years and by 90% by 2030." The program directs significant resources to 48 counties, Washington, D.C., San Juan, Puerto Rico, as well as 7 states that have a substantial rural HIV burden. In addition, the Plan's four main strategies – diagnose, treat, protect, and respond – will be implemented across the entire U.S. within 10 years.

CDC Reports and Fact Sheets