2021 National Youth HIV and AIDS Awareness Day (April 10)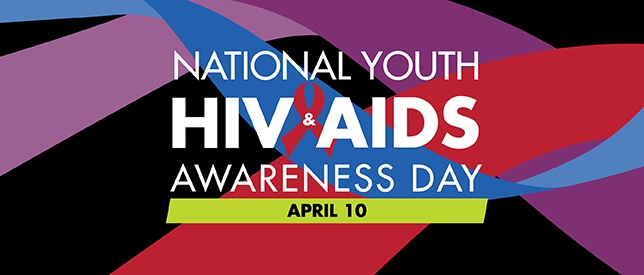 The ninth annual National Youth HIV and AIDS Awareness Day (NYHAAD) is being observed this year on Saturday, April 10. Many national, state, and private organizations are partners or supporters of NYHAAD. The day's founding partners include: Advocates for Youth; AIDS Alliance for Children, Youth, and Families; AIDS United; NASTAD; National Coalition of STD Directors; NMAC; and Sexuality Information and Education Council of the United States.
Advocates for Youth notes that, "Today's young people are the first generation who have never known a world without HIV and AIDS." In the U.S., about one in five (21%) new HIV infections occur among youth between 13 and 24 years old. Unfortunately, only about 4 in 7 youths living with HIV know they are infected. In addition, compared to all people with HIV, youth have the lowest rates of viral suppression – just 30%. "Addressing the impact of HIV on young people requires they have access to affirming, culturally competent, and medically accurate resources and tools."
To raise awareness and support activities commemorating NYHAAD, we have compiled an annotated list of online resources focusing on HIV/AIDS among children, adolescents, and young adults.

Online Resources
National Youth HIV and AIDS Awareness Day. This is Advocates for Youth's web page for NYHAAD. It provides background information about the day, together with links to resources focusing on issues related to HIV among youth.
HIV Among Youth. This fact sheet from CDC includes the latest information about new HIV diagnoses and trends, the HIV care continuum, challenges to providing care and services to youth, and steps CDC is taking to respond to the HIV epidemic in youth.
HIV and Children and Adolescents. This fact sheet from HIVinfo answers frequently-asked questions about the effects of HIV on children and adolescents, the modes of transmission, factors that increase HIV risk, and HIV treatment and adherence for children and adolescents.
HIV and Young Women and Girls in the United States. This fact sheet from Advocates for Youth examines the systemic barriers that place young women and girls at risk for HIV, and includes recommendations to reduce the impacts of HIV on young women and girls.
STDs & HIV: Get the Facts, Learn the Risks, Protect Yourself. This brochure from Advocates for Youth answers frequently asked questions about HIV prevention and access to care and services for youth. It also includes plain-language information about a range of HIV prevention options, as well as the signs, symptoms, testing, and treatment of sexually transmitted diseases.
HIV Surveillance – Adolescents and Young Adults. This slide set from CDC focuses on HIV among youth, with data breakdowns by age, gender, race/ethnicity, transmission category, and geographic area.
Youth Risk Behavior Surveillance – United States, 2019. This special supplement to the Morbidity and Mortality Weekly Report has extensive demographic and risk information for U.S. students in grades 9 through 12.
Young People, HIV, and AIDS. This web page from Avert provides general information about HIV among youth and has links to numerous reports and articles focusing on youth.
Being Young and HIV Positive. This web page from Avert provides information about HIV/AIDS for young persons. Topics include: taking responsibility for your health, telling your friends, having relationships, having sex, and sharing responsibility for safer sex.
Talking with Your Children about HIV: HIV Awareness for Children. This fact sheet from the Well Project provides basic information about HIV in plain language, guidance on how parents can start discussions about HIV with their children, advice on talking to children of different ages, and tips on how parents can take care of themselves when they have potentially difficult conversations about HIV with their children.

Resources from UNICEF: