2019 National Women and Girls HIV/AIDS Awareness Day (March 10)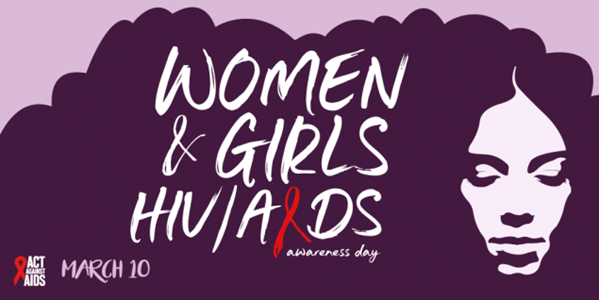 The 14th annual National Women and Girls HIV/AIDS Awareness Day (NWGHAAD) will be observed on Sunday, March 10. The primary purpose of the NWGHAAD is to raise awareness of the impact of HIV/AIDS on women and girls. To help you and your patients or clients mark this day, we have compiled an annotated list of online resources focusing on HIV/AIDS among women and girls in the U.S.
Fact Sheets and Reports on Women and HIV
HIV Among Women. This two-page CDC fact sheet, updated in 2018, presents information about trends in diagnoses among women in the U.S., with breakdowns by transmission group and race/ethnicity. It also discusses the various factors that can place women at risk for HIV infection and the steps CDC is taking to address the needs of women affected by HIV.
Women and HIV/AIDS in the United States. Although now somewhat dated, this four-page fact sheet from the Kaiser Family Foundation provides an excellent summary information on the impact of HIV/AIDS on U.S. women. The fact sheet includes: a snapshot of the epidemic, a review of key trends and current cases, information on reproductive health and HIV transmission specific to women, HIV testing, access to prevention and care, and women's opinions about HIV/AIDS.
HIV Among Pregnant Women, Infants, and Children. This CDC fact sheet includes information about trends in perinatal (mother-to-child) transmission of HIV, why pregnant women and their babies are at risk for infection, strategies for preventing transmission, and steps CDC is taking to address perinatal transmission.
Diagnoses of HIV Infection in the United States and Dependent Areas, 2017. This 129-page CDC report includes detailed information about HIV and AIDS cases and deaths in the U.S., including breakdowns by gender, race/ethnicity, transmission category, age, and geographic region.
Women and Girls, HIV and AIDS. This page from Avert.org presents a global overview of HIV/AIDS among women. Topics covered include: the factors that place some women and girls at high risk for becoming infected with HIV; HIV counseling, testing, and antiretroviral treatment among women and girls; efforts to reduce perinatal transmission of HIV; and HIV prevention programs focusing on women and girls. This document also includes citations and hyperlinks to more than 100 source research papers and reports.
Selected Organizations and Web Sites on Women and HIV
The Well Project: This web site focuses on HIV prevention, treatment, and wellness among women living with, or at risk for, HIV infection.
Women Organized to Respond to Life-Threatening Diseases (WORLD): The mission of WORLD is to improve "the lives and health of women, girls, families, and communities affected by HIV through peer-based education, wellness services, advocacy, and leadership development."
Selected Recent Articles on Women and HIV
Study of PrEP and Vaginal Ring for HIV Prevention Begins in Girls and Young Women (National Institute of Allergy and Infectious Diseases)
Women and U=U (Poz)
HIV Is Declining More Slowly Among Foreign-Born Black Women (Poz)
Women with HIV Have Higher Risk of Failed Cervical Precancer Treatment (Poz)
HIV Prevalence Among Transgender Women Lower Than Previously Estimated, but Rates May Not Be Going Down, New CDC Study Finds (TheBodyPro)
Ambassador Program for Black Women (Black AIDS Institute)
HIV Is Linked to Missed Periods Among Women (Poz)
HIV Risk Varies Based on Menstrual Phase (Poz)
Among Pregnant Women with HIV, Hep C Is Tied to Preterm Delivery (Poz)
PrEP Is Safe for Pregnant Women Who Want the HIV Prevention Drug, a New Study Finds (TheBodyPro)
Longevity of Long-Acting PrEP May Vary Between Men and Women (TheBodyPro)
HIV Preexposure Prophylaxis, by Race and Ethnicity – United States, 2014–2016 (MMWR) - includes discussion of low PrEP prescription rates among women
Making Clinical Trials of PrEP More Inclusive of Women, No Matter Their Pregnancy Status (TheBodyPro)
Unstable Housing Associated with Low CD4 Cell Count and Detectable Viral Load for HIV-Positive Women in U.S. (AIDSmap)
Dolutegravir Brings Faster Viral Suppression in Late Pregnancy (AIDSmap)
Lynne Mofenson, M.D., Explains the Dolutegravir Risks for People with HIV Who Want to Get Pregnant (TheBodyPro)
Unintended Pregnancies and Desire for Children: Reproductive Health Needs of Women Living with HIV (AIDSmap)
Most Adolescent PrEP Users in U.S. Are Young Women (AIDSmap)
PrEP Use, Compared with HIV Diagnosis Trends, Lags in Youths, Women, the South (Poz)
PrEP Does Not Lower Feminising Hormone Level in Transgender Women (AIDSmap)
HIV-Positive Women's Diabetes Needs Much Better Management (Poz)
Women Likely Shy Away from PrEP Because of Fear of Stigma (Poz)
Increasing PrEP for Women: CDC Town Hall Discussion Series (Centers for Disease Control and Prevention)
Most Pregnant Women in U.S. on Point with Prenatal Care (MedPage Today)
Why Does HIV Pose a Greater Threat to Women's Hearts? (TheBodyPro)
Anti-HIV Drug Combination Does Not Increase Preterm Birth Risk, Study Suggests (National Institutes of Health)
Guidance for Counseling and Managing Women Living with HIV in the United States Who Desire to Breastfeed (AIDSinfo)
NIH's Dr. Gina Brown on Highlights of Research on Women & HIV from CROI 2018 (HIV.gov)
Research Is Still Exploring Best Treatment Strategies for Pregnant and Breastfeeding Women, Interactions with Contraceptives (TheBodyPro)